A true snapshot of the world-famous American West, Montana boasts wide-open spaces, pristine rivers, and soaring mountains. All this natural beauty turns it into one of the nation's best camping destinations.
From expansive BLM lands to the state's many National Forests, Montana provides unlimited opportunities to those wishing to explore its incredible wilderness free of charge.
To assist you, I've created this comprehensive guide containing all the information you'll need to plan a Montana dispersed camping trip.
Besides helping you learn how to find dispersed camping zones on your own, I'll review what I consider to be the state's eight best dispersed campsites. Let's dive right into it!
Where in Montana is Dispersed Camping Permitted?
Those interested in dispersed camping in Montana can do so on lands overseen by two federal agencies: the Bureau of Land Management (BLM) and the United States Forest Service (USFS). It's safe to say that these properties are dotted with fantastic dispersed campsites surrounded by breathtaking nature. However, out of those two, National Forests (the lands managed by the USFS) contain the vast majority of Montana's dispersed camping opportunities.
The United States Forest Service generally allows dispersed camping anywhere on its land as long as doing such a thing is not explicitly forbidden. Moreover, outdoor enthusiasts usually can't pitch tents in USFS-controlled areas that are too close to parking zones, trailheads, established campsites, and other recreational amenities.
The same applies to the properties overseen by the Bureau of Land Management. However, determining whether you can or can't camp in a particular BLM-managed area is often trickier than trying to do the same in a National Forest.
Montana Dispersed Camping – BLM-Managed Lands
Unlike some of the other western US states – such as Colorado or Wyoming – Montana doesn't have a lot of lands overseen by the BLM. There are, however, enough BLM-managed properties in Montana that it makes sense to mention this US state when talking about dispersed camping.
Most of these lands can be found in the state's eastern half, even though this region of Montana is not as popular with dispersed campers as its western part.
It's never a bad idea for outdoor enthusiasts to contact the relevant BLM offices in Montana and ask about potential dispersed camping opportunities. Here's the contact information for all four of Montana's BLM offices:
Montana Dispersed Camping – USFS-Managed Lands
Within its boundaries, the US state of Montana has eight National Forests. However, not all of these forests are situated entirely within Montana, with the Idaho Panhandle National Forest being the best example – it barely stretches into the state's northwestern corner.
Moreover, there are pairs of forests situated in Montana that are administered as single entities, even though they're two different wooded areas. The best example of this is the Helena-Lewis and Clark National Forest.
While it's true that the United States Forest Service provides general guidelines regarding dispersed camping on its lands, each of the National Forests managed by this agency can set up its own camping regulations and rules. This is why it's essential to always check for the rules by directly contacting the office responsible for the National Forest you're planning to visit.
The Best Sites & Areas
Now that you have a better understanding of the rules and regulations concerning dispersed camping in the Big Sky Country, have a look at my detailed descriptions of the state's best dispersed campsites and areas:
Rock Creek Camping Area
Crowds: Moderate 
Water: No, but you can filter some from the creek 
Restrooms: No 
The first dispersed camping area on my list is close to Montana's border with Wyoming, which is yet another US state with excellent dispersed camping opportunities. See our Spread Creek Dispersed camping guide for more information.
More precisely, the Rock Creek Camping Area can be found next to the breathtaking Beartooth Pass. A long, winding dirt road leading to the town of Red Lodge, Beartooth Pass is a USFS-managed road that parallels Rock Creek and has plenty of excellent spots for tent-pitching.
Almost all of the sites at Rock Creek have access to the creek itself. This allows campers to easily filter water whenever they need some, although I recommend bringing clean water in portable containers.
Another critical thing to point out about this place is its lack of amenities or facilities. You'll be left to your own devices and have to pack and take out all of your trash.
Those who keep driving down Rock Creek Road are bound to get to the Glacier Lake trailhead. From there, you'll be able to embark on an unforgettable hike that will take you to the nationwide-famous Absaroka-Beartooth Wilderness Area. Rock Creek Camping Area also provides visitors with easy access to Yellowstone National Park.
Finally, if you're looking for amenities not typically offered by dispersed camping, you'll be pleased to hear that there are several excellent established campsites in this region.
Shields River Dispersed Site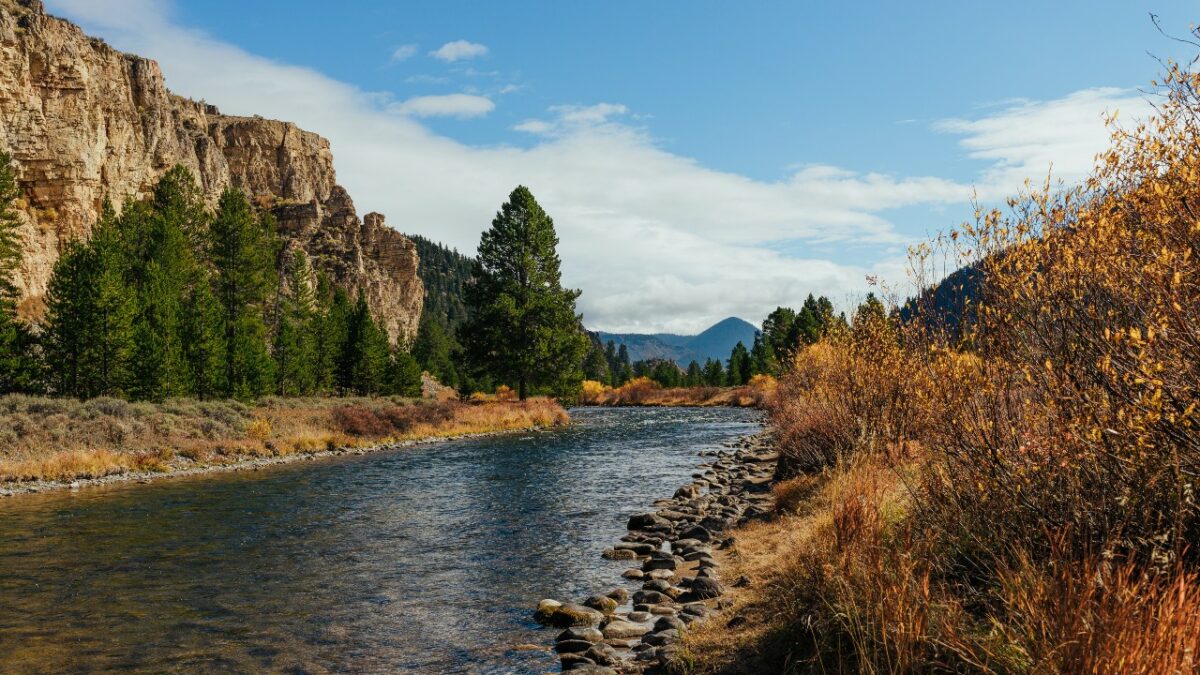 Crowds: Moderate 
Water: No 
Restrooms: Vault toilet 
The Shields River Dispersed Site can be found in Montana's Custer-Gallatin National Forest. Situated on the banks of the river of the same name, it features four camping spots in total (as you'll be able to see on the map provided above).
I should also mention that this place is tucked away in a not-so-popular part of the West Crazy Mountains, about an hour north of the city of Livingston, MT. Unlike the Rock Creek Camping Area, this dispersed site features a vault toilet – always a big plus in my book!
The four camping spots are located south of the river and are laid out in a large loop. This allows quick and easy navigation around the site, whether you come here in a car or an RV. Moreover, Shields River Dispersed Site is an excellent option for campers with larger rigs.
Due to its location, this area provides its visitors with fantastic fishing and hiking opportunities. While staying here, check out the nearby Sunlight Lake Trail, which will take you to the titular lake nestled beneath the soaring Sunlight Peak.
Homestake Pass Camping Area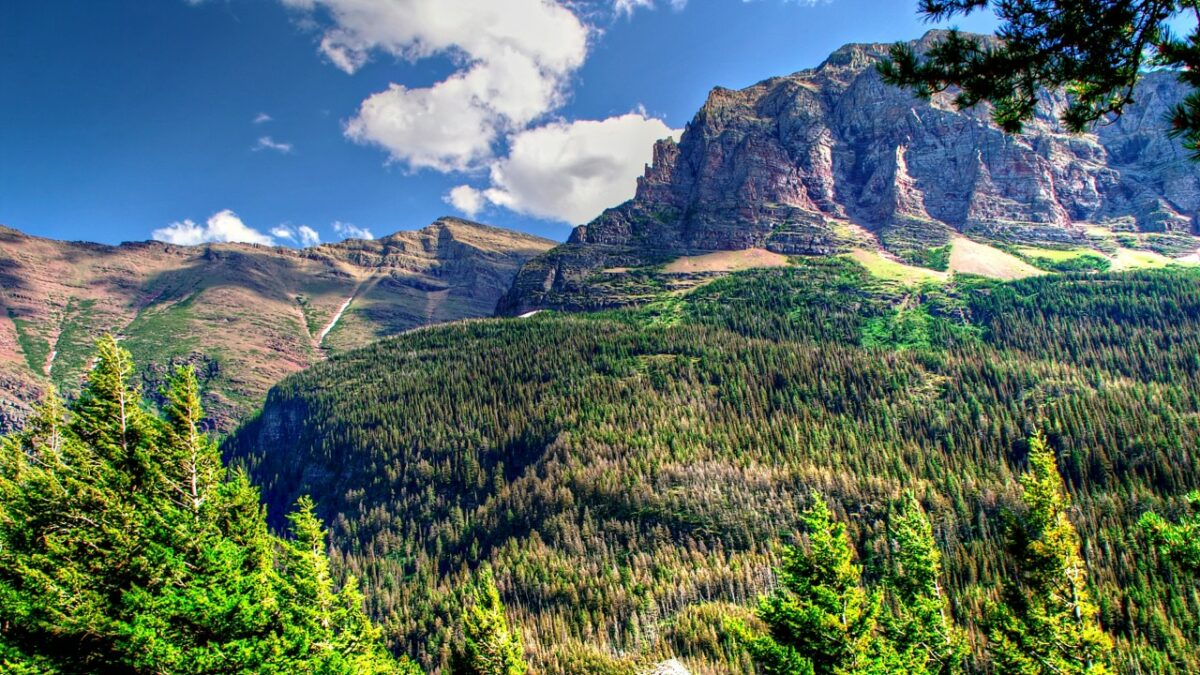 Crowds: Busy 
Water: No 
Restrooms: No 
Located outside Butte, Homestake Pass's wild camping area provides excellent dispersed camping opportunities right off Interstate 90, where it crosses the Continental Divide.
Those who'd like to camp in a wooded area should keep driving north on Homestake Road. Once you get past the picnic zone, you'll find yourself in a breathtaking National Forest, with several exceptional campsites to choose from.
If you're planning to visit this area with an RV, your best bet is to stay at one of the sites next to the highway. The further north on Homestake Road you go, the more private its campsites will be. However, the road gets increasingly rugged with each mile – make sure to use a high-clearance vehicle.
Homestake Pass is a dry wild camping zone – it features no water access points, showers, or vault toilets. All those planning to come here should do so fully prepared. Also, don't forget to practice the Leave No Trace principles (which I've outlined above) while staying here.
Due to its proximity to Interstate 90, Homestake Pass Camping Area is an excellent choice for outdoor enthusiasts passing through Montana on longer camping trips. It's one of the best places in the region for relaxing and enjoying the surrounding wilderness.
Elk Lake Wild Camping Area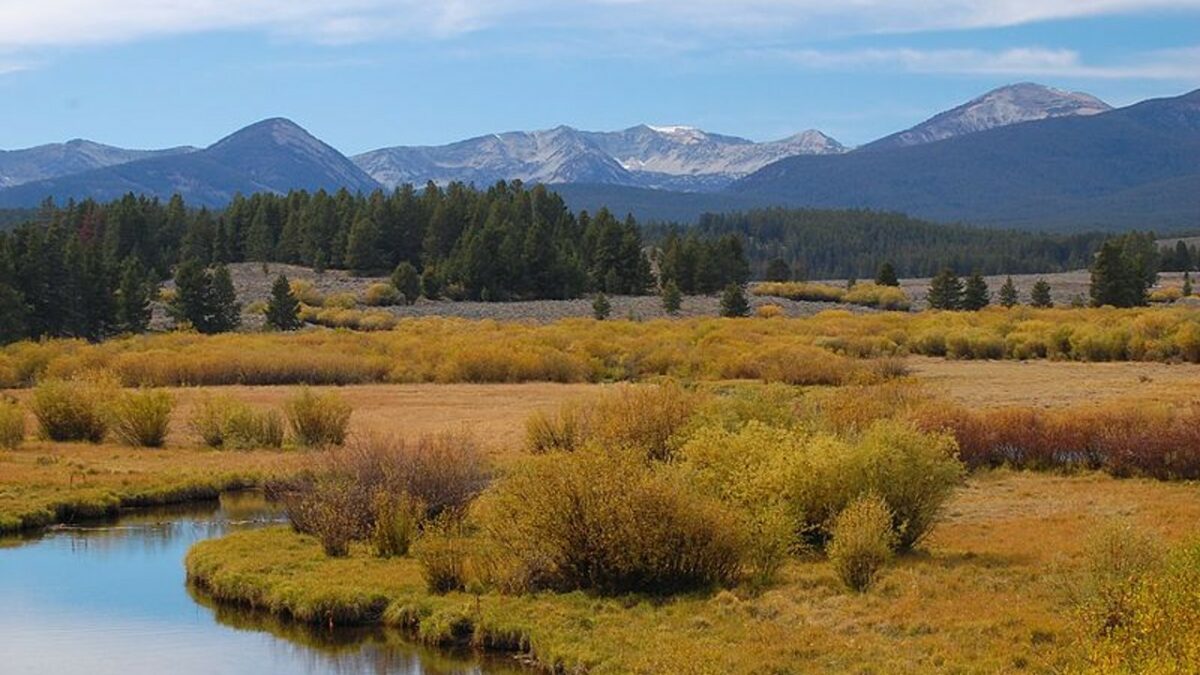 Crowds: Moderate 
Water: No 
Restrooms: Vault toilet 
As its name suggests, the next Montana dispersed camping area on my list is located next to Elk Lake. A charming and tranquil place to spend the night, this dispersed camping area can be found just off the road that leads to Red Rock Lake in the Beaverhead-Deerlodge National Forest.
One of the best things about this particular site is that it's very close to the Elk Lake Resort. Providing dining and lodging, this is a great place to visit whenever you feel like having a hot meal or sleeping in a cozy bed.
Getting to Elk Lake from the main highway can take quite a long time. Those planning to go there in an RV or while towing a trailer should factor in some extra time. The road is also somewhat rugged, so take it slow if you don't have a high-clearance vehicle.
Furthermore, you'll have to be almost entirely self-sufficient here – the only facility is a single vault toilet. And finally, you'll be camping in a bear country, so storing provisions in bear canisters while staying here is paramount.
Muchwater Recreation Area
Crowds: Busy 
Water: No 
Restrooms: Vault toilets 
Situated about an hour from the city of Missoula, on the banks of the Clark Fork River, the Muchwater Recreation Area is yet another excellent place to spend a few nights.
This bustling place provides its visitors with 15 designated camping spots, each with access to vault toilets and a fire ring. Although an excellent choice for anyone in love with nature, Muchwater Recreation Area is a perfect option for those interested in water-based activities – it's right next to Clark Fork River.
You'll have to try your luck elsewhere if you own a large RV, though. This dispersed site has space for a couple of smaller camping set-ups only. But still, spending a few nights here is worth it – the surrounding nature is absolutely wondrous.
If you're not that interested in activities such as boating or swimming and would instead go hiking, look into the nearby Upper Twin Creek Trail. This trail provides some genuinely unforgettable views of Montana's wilderness, and it's also possible to wild-camp next to it. I should also mention that the Cascade Creek Campground is less than two miles to the east.
Haymaker Wild Camping Area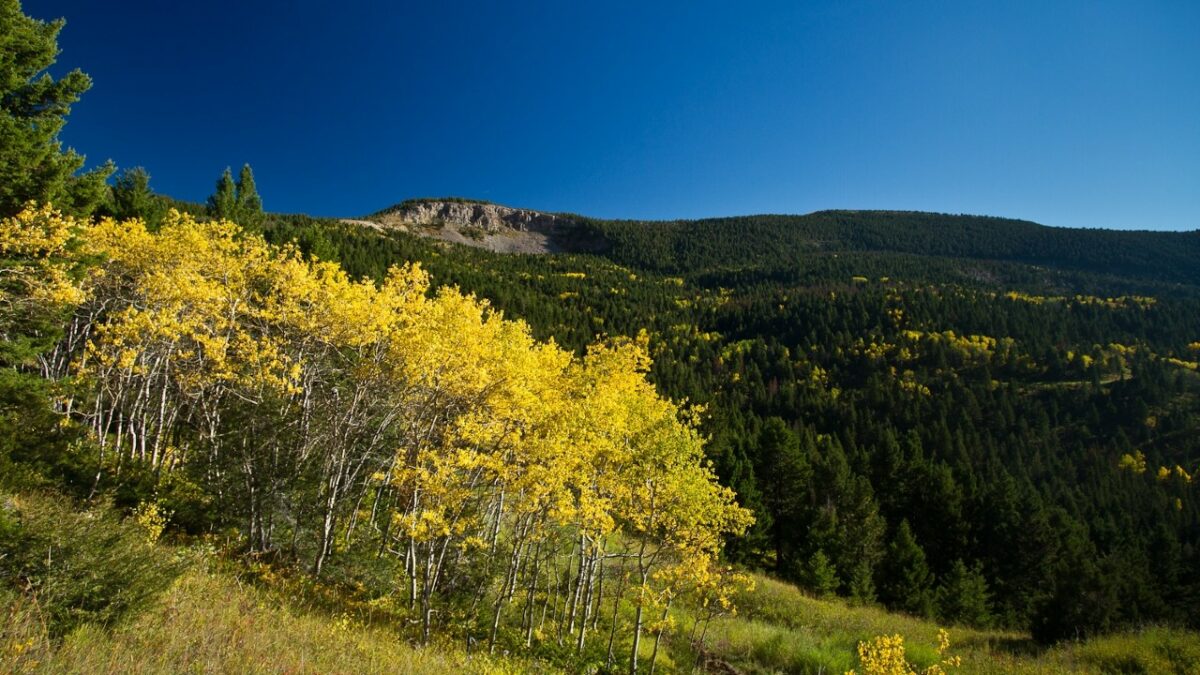 Crowds: Moderate 
Water: No 
Restrooms: Vault toilet 
The Haymaker Wild Camping Area is located in the Helena-Lewis National Park, next to Haymaker Road. Situated along a quiet creek, the site has enough space for several camping set-ups and a basic vault toilet.
This particular wild camping area is known for its "staging ground" status among those wishing to explore the Helena-Lewis and Clark National Forest further. On the other hand, the nearby Haymaker Canyon is one of the region's most popular ATV routes.
Those who decide to camp here will stay close to a small creek. However, due to its water being quite unreliable, it is highly recommended to bring your water in portable canisters.
Finding the Haymaker Wild Camping Area is as straightforward as it can be, but getting to it isn't – the road is a bit tricky, so stay careful and take it slow. You will also want to keep the trash in your car and provisions in bear canisters while staying here.
Flat Lake Recreation Area
Crowds: Moderate 
Water: No 
Restrooms: Vault toilet 
Even though most of the dispersed camping areas/sites described in this article so far have been in the western and central parts of the state, rest assured that Montana's eastern half also has several extraordinary destinations for camping enthusiasts.
The Army Corps of Engineers manages the best of these places, and its name is the Flat Lake Recreation Area. Whether you're a tent, trailer, or RV camper, you can stay here free of charge.
Even though this camping zone is technically situated along Flat Lake, the body of water where you'll want to go and participate in water-based activities is Fort Peck Lake. This reservoir is just south of the camping zone and covers an area of 245,000 acres.
The Flat Lake Recreation Area has no potable water, but you'll be able to get some – along with other provisions – in the town of Fort Peck. There is a vault toilet for all visitors. Some camping spots here feature picnic tables and fire rings.
Billy Garret Memorial Bridge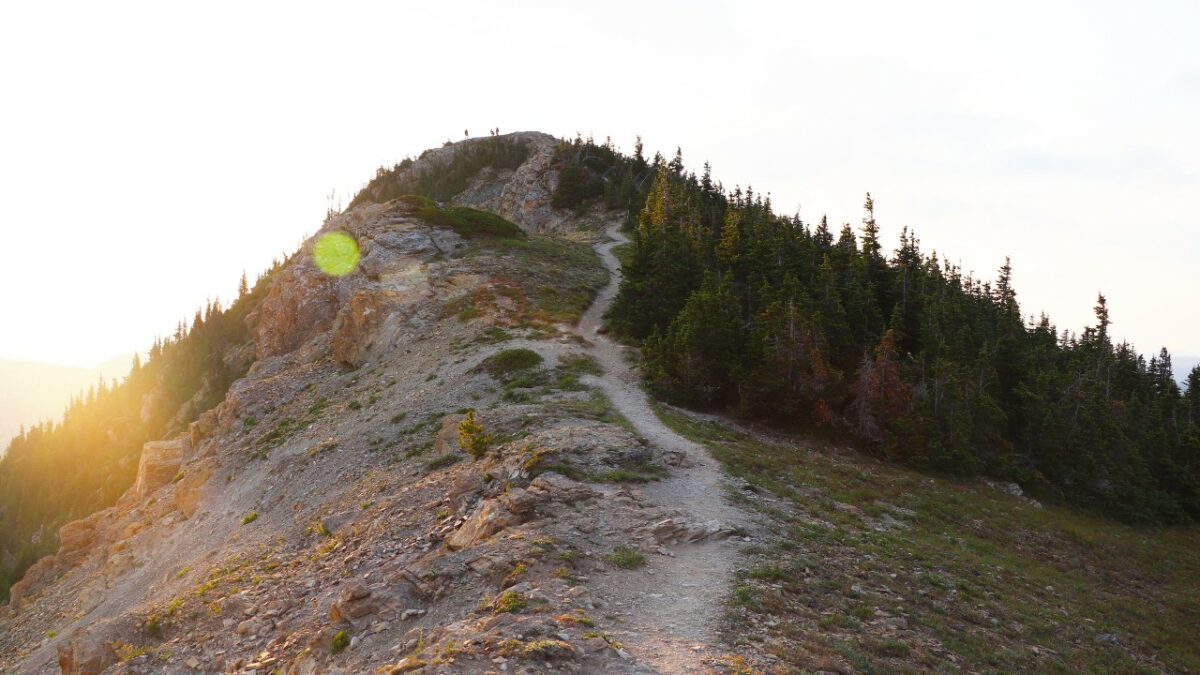 Crowds: Moderate 
Water: No 
Restrooms: Vault toilet 
The last of Montana's wild camping areas on my list is the Billy Garret Memorial Bridge, an excellent option for those wishing to stay near Glacier National Park.
Located in Flathead National Forest, along the Flathead River's south fork, this dispersed campsite is popular with outdoor enthusiasts interested in water-based sports. This is because the United States Forest Service, which oversees the region, allows camping right next to the bridge.
It's not an excellent choice for folks with larger rigs, though. The area features only enough space for a few smaller camping set-ups. Also, the only available amenity is a single vault toilet for all visitors.
On the bright side, there are plenty of hiking trails close to the Billy Garret Memorial Bridge. The best of these is Upper Twin Creek Trail.
How Do I Find Dispersed Camping Areas in Montana?
Finding excellent dispersed camping zones in the Big Sky Country is straightforward for those who know where to look. This particular guide is an ideal starting point – below, I've provided links to some of the best currently available resources for finding great places to camp.
Whenever seeking a good place to pitch my trusty tent, I combine one of the BLM or USFS maps with one of the best dispersed camping apps.
Here are some of my favorite online resources:
The Dyrt – This extremely well-designed app lets users filter for free camping sites.
Freecampsites.net – As its name suggests, this is a phenomenal resource for anyone looking for campsites where they can stay free of charge.
Campendium – Both an app and a website, Campendium provides thousands upon thousands of user reviews covering all free and paid campgrounds in the US.
Using these sources makes it easy to find a campsite or a camping zone whose location and amenities fit your needs.
However, I highly recommend combining these apps and websites with maps and other resources made available by the various public agencies. The easiest way to get these resources is by contacting relevant BLM or USFS offices in Montana and asking the people working there for recommendations and up-to-date camping information.
The MVUMs – Motor Vehicle Use Maps – deserve a special mention. These maps are among the best resources for folks seeking dispersed camping in Montana's National Forests. They're published by the United States Forest Service and show all the roads managed by the same agency that outdoor enthusiasts can use for their camping adventures.
One of the best things about MVUMs is that they typically display areas where dispersed camping is allowed. These zones are usually indicated by dot-like symbols that follow a specific road on a map.
If you're interested in dispersed camping in Montana's woodlands, make sure to check the MVUM for the particular National Forest you'd like to stay in.
Try to combine one of these Motor Vehicle Use Maps with the satellite view on Google Maps by opening these resources in different tabs. This will allow you to cross-reference the information provided by the two and find great campsites much more quickly.
Regulations & Rules Regarding Dispersed Camping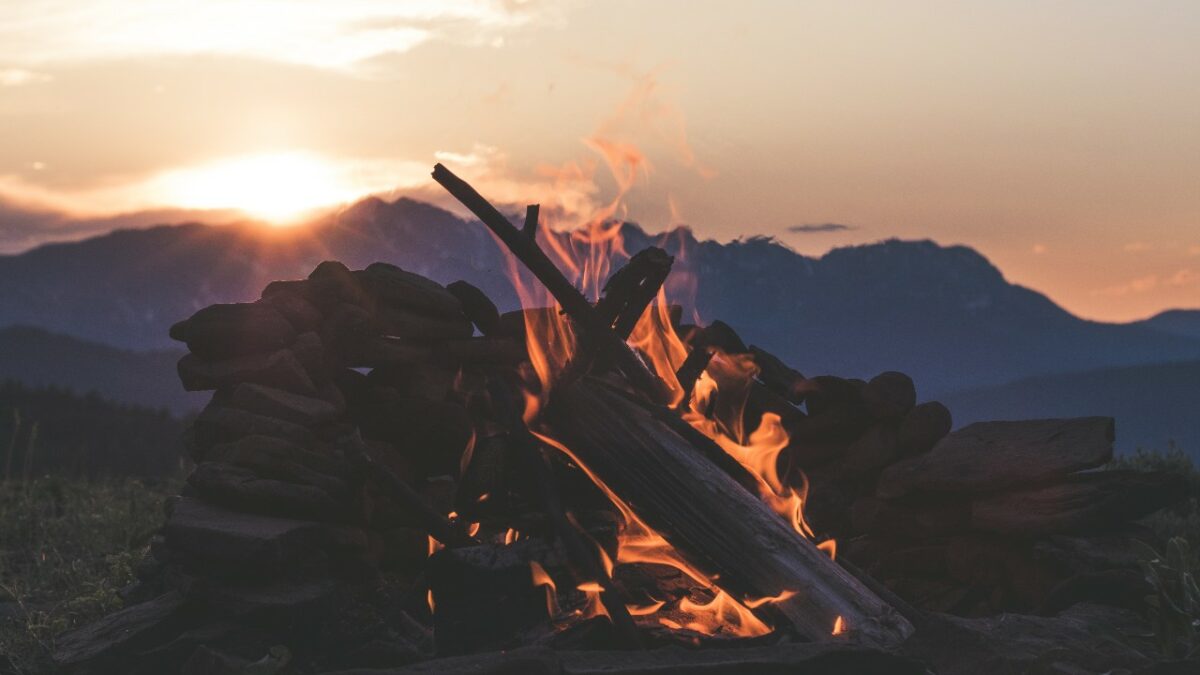 When staying at an established campsite, you usually have to deal with reservations, permits, and other requirements. One of the best things about dispersed camping is that you don't have to deal with any of that stuff.
But still, all those interested in dispersed camping should always follow some basic guidelines. While it's true that contacting the relevant BLM or USFS field office for current regulations is always the best idea, you can't go wrong by adhering to the following rules:
Wherever you are, practice the Leave No Trace principles.
Dispersed campers should build campfires only in zones where it's allowed. Making sure the campfire is fully extinguished before moving elsewhere is crucial.
In general, dispersed campers can stay in one place for up to two weeks in one month.
Make your campsite as small as possible. Try to set it up somewhere where there's no vegetation and stay as far away from water sources as possible.
If your campsite has a fire ring, use it instead of building a campfire at a different place.
Never set up camp in areas near picnic zones, hiking trailheads, or established campsites.
Dispersed Camping & Leave No Trace Principles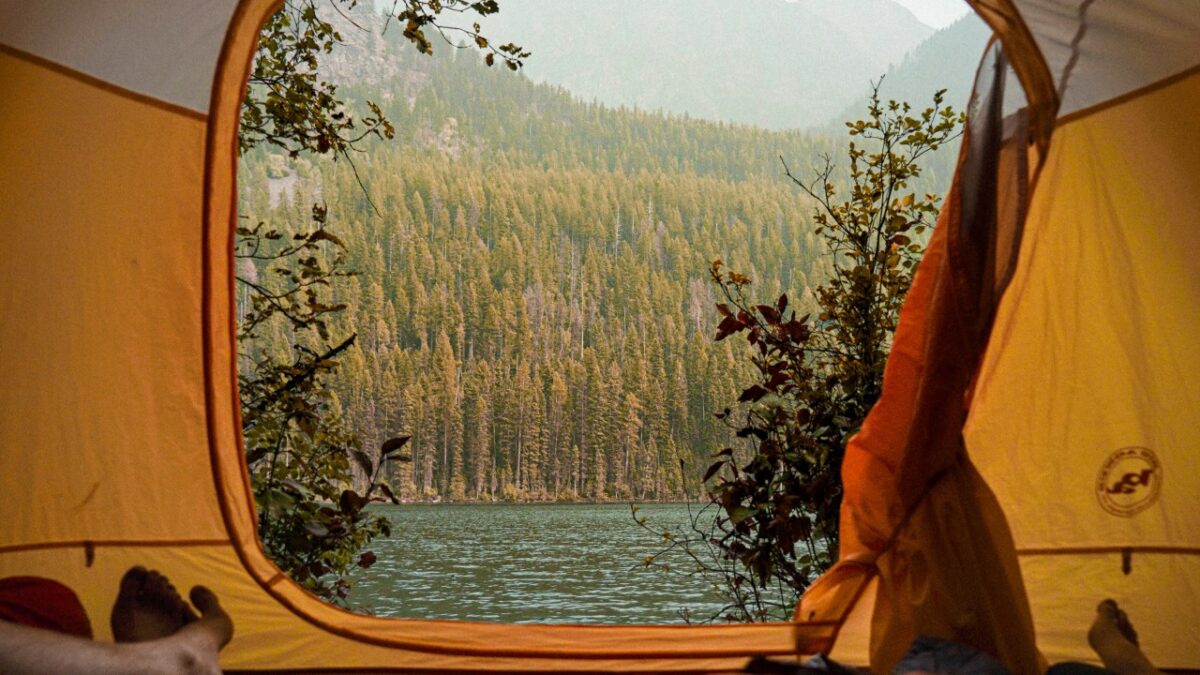 A set of outdoor ethics created by the organization of the same name, the Leave No Trace principles can help any camping enthusiast minimize their impact on the environment. Practicing them means ensuring that all future visitors get to enjoy the beauty of the camping spot you stayed at.
They are as follows:
Be mindful of other camping enthusiasts. Stay quiet, remove all your garbage, and try leaving the campsite in the same state where you found it.
Respect the area's wildlife. Don't feed the animals; always store your provisions and trash so they can't reach them.
Minimize the impact of your campfire. If your site has a fire ring, use it. Do not build a campfire in dispersed camping areas where doing that is not allowed.
Leave whatever you find at and around your camping spot. Besides gear, the only stuff you should take with you is garbage.
Always properly dispose of trash. Packing the garbage and taking it with you is essential. On the other hand, the best course of action regarding human waste is always to bring a portable toilet.
If you don't have one of those, make sure to "answer the call of nature" as far away from water sources as possible.
Travel and set up camp on compact surfaces. Don't damage the environment by trying to set up camp on fragile ground.
Think ahead and prepare accordingly. Don't come to a particular dispersed camping area without any idea of how and where you'd like to camp. Also, don't forget to ensure that the region you'd like to stay in actually allows dispersed camping.
If you are interested in camping elsewhere in the US, check out our Custer State Park camping guide.
The Takeaway
Hopefully, the information provided above will assist you in planning a Montana dispersed camping trip that you won't forget anytime soon.
Just follow the Leave No Trace principles while staying at any of the places described in this guide. Minimize your environmental impact and allow future visitors to enjoy Montana's wild beauty as much as you did!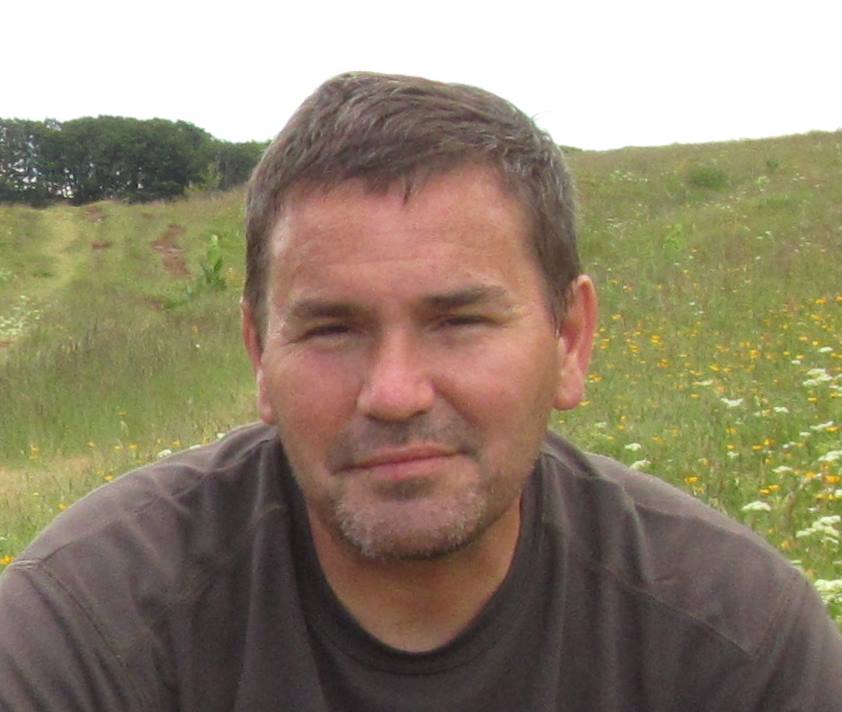 It is my grandparents fault. They took me camping every year from the age of three, and hiking was simply walking up hills! He would be surprised now to hear of wild camping – for him living in Scotland – he just pitched up and camped. I don't think he paid for a campsite in his life.