The Hydro Flask gives outdoor enthusiasts the ability to drink cool water anywhere. My Hydro Flask bottle made many of my hiking adventures more enjoyable.
But Hydro Flask has become so much more than an outdoor brand. This colorful, stainless-steel bottle is now a fashion statement just as much as it is a piece of outdoor gear. It is one of the best gifts for hikers. But, because of all of this, Hydro Flask bottles are more expensive than they used to be.
I can understand why the price tag is off-putting to some buyers. These Hydro Flask alternatives offer a similar double-wall stainless steel construction, user-friendly design, and temperature retention, and most of them come at a much lower price.
Thermoflask
Specs
Volume: 32 oz
Empty weight: 1.3 lb
Body material: Stainless steel
The Thermoflask is an affordable but efficient reusable water bottle. It is ideal for people who lead an active lifestyle. I've been using it during my workouts as well as my commute.
Like the Hydro Flask, the Thermoflask features double-wall vacuum insulation, durable stainless steel construction, and a non-slip coating.
But, unlike the classic Hydro Flask bottle, the Thermoflask comes with a leakproof straw lid. This allows you to drink water quickly when you're on the go.
The Thermoflask is big enough not to require frequent refills. Moreover, it is easy to drink out of. The lid of the Thermoflask also features a loop, so you can easily attach it to a carabiner or your belt.
Even though it comes at half the price of the average Hydro Flask bottle, the Thermoflask does just as good a job of keeping beverages ice cold.
I filled the Thermoflask with ice and cold water at 7 a.m. I checked back at the same time the next day, and there were still ice cubes floating in the bottle. I have written a head to head review of Thermoflask vs Hydro Flask.
Pros
Durable
Affordable
Impressive insulation
Leakproof
Non-slip coating
Klean Kanteen TKWide
Specs
Volume: 20 oz
Empty weight: 0.9 lb
Body material: Stainless steel
The Klean Kanteen impressed me with its insulating prowess and sleek design. I find it to be something between a reusable water bottle and a coffee mug.
The newest version of the TKWide comes with an updated lid. There are also dots instead of threads on the inside of the TKWide. This makes it a bit easier to clean the bottle.
I also like how the carrying handle locks down. Since not everyone enjoys using carrying handles, this feature is much appreciated.
However, I have mixed feelings about the twist-lock café cap. The cap lid makes it easy to drink any beverage from the bottle, but it will leak if you don't close it all the way. This is a standard user error, so the closing mechanism should be better.
Still, the Klean Kanteen didn't give me much to complain about. I found the durability of the bottle to be quite impressive. I threw it on the ground, knocked it over, and dropped it a bunch of times—the Klean Kanteen barely got a scratch.
The price tag seems fair for a tried and true bottle from a trusted brand. It is just as durable, sleek, easy to clean, and easy to use as the Hydro Flask. I have written two reviews of Klean Kanteen.
Pros
Durable
Sleek, low profile carrying handle and lid
Budget-friendly
Great insulation
Doesn't impart flavors
Simple Modern Summit
Specs
Volume: 22 oz
Empty weight: 1 lb
Body material: Stainless steel
While the Simple Modern isn't as durable as the Hydro Flask, it keeps cold drinks and hot drinks for half the price.
The Simple Modern gained my approval for its simple design and excellent insulating properties. Since I could put hot beverages or cold water in the bottle interchangeably, I found it ideal for use around town.
Thanks to its sleek and well-proportioned design, the Summit easily fits into messenger bags, cup holders, and backpack pockets. This sets it apart from the narrower bottles on the market.
The interchangeable lid is the other defining feature of this bottle. The first lid option is a basic screw cap, while the other is a flip cap designed for hot beverages.
I was a bit nervous about putting the bottle in my bag as there is no way to secure the flip cap, but I never had any leakage. Still, I recommend using the screw cap when carrying the Summit in your backpack.
Weighing only around 12 oz, the Summit is lighter than most of the competition. Since it is a lightweight bottle, it is not nearly as durable as the Hydro Flask. It will definitely dent if you drop it, but you won't see any leaks. Here is a Hydro Flask vs Simple Modern review.
Pros
Interchangeable lids
Lightweight
Insulates well
Affordable
Easy to clean
Cons
The flip cap seems to lack security
Ozark Trail Water Bottle
Specs
Volume: 36 oz
Empty weight: 1.8 lb
Body material: Stainless steel
If you want something a bit bigger, the Ozark Trail reusable water bottle may be the best option. In terms of ice retention, it performs just as well as the Hydro Flask.
I threw in some ice cubes and left the bottle sitting outside. Even though the mercury climbed into the 90s during my test, it still took about 70 hours for the ice to melt. I was utterly stunned.
Bear in mind that this is one of the most affordable stainless steel bottles out there; I managed to snag it for just $7. Still, the Ozark never felt cheap when I used it.
The wide mouth of the bottle makes it easy to clean. The Ozark is even dishwasher safe. The only downside of the Ozark is its weight. It feels pretty heavy, even for a 36 oz bottle. For a direct comparison, see this Ozark Trail vs Hydro Flask review.
Pros
Super affordable
Durable
Great temperature retention
Dishwasher safe
Various color options
YETI Rambler 26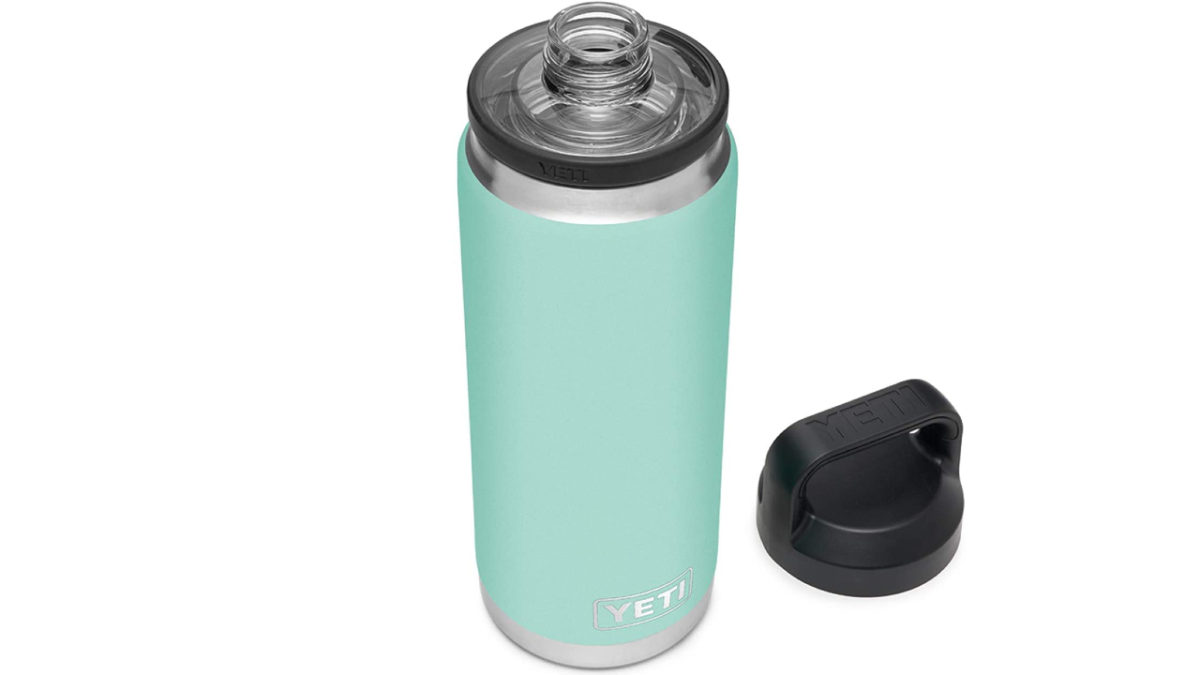 Specs
Volume: 26 oz
Empty weight: 1.2 lb
Body material: 18/8 stainless steel
Without a doubt, the Yeti Rambler is Hydro Flask's biggest competitor. Unlike all the other bottles on the list, the Yeti Rambler isn't more affordable than the Hydro Flask. But I'd say that it is definitely worth the price.
It is the toughest and most durable insulated water bottle I tested, and yes, it is even tougher than the Hydro Flask. I threw the Yeti around all day long, sideways, empty on the lid, empty on the bottom, full on the lid, full on the bottom, and I went really hard at it.
There were a few minor dents and scratches but no punctures or leaks. I did the same with the Hydro Flask; the dents were much bigger.
I was also impressed by the chug cap insert. This insert fits inside the wide mouth and has a narrow spout. It allows for easy one-handed drinking and eliminates spillage.
The spout didn't leak even when I was deliberately shaking the bottle. You won't have to stop moving to take a swig.
The bottle's girth makes it so functional and durable, so the Rambler is a bit on the heavy side. But considering the fact that this bottle could easily last you a lifetime, the trade-off is well worth it. I have also written a comparison of Yeti and Hydro Flask.
Pros
Extremely durable
Chug cap insert
Great thermoregulation
Easy to carry
Ideal for daily use
Iron Flask
Specs
Volume: 36 oz
Empty weight: 1.4 lb
Body material: Stainless steel
If you like variety, you will definitely enjoy the Iron Flask stainless steel bottle. While it is not much cheaper than the Hydro Flask, I dare say that the Iron Flask offers excellent value for the money.
The Iron Flask comes with three different lids. Like drinking hot coffee during your commute? Reach for the stainless steel lid. Don't want to spread germs? Use the flip cap for air sips.
Want to drink on the go? Screw on the straw lid. It comes with not one but two metal straws.
Although I must say that the straw lid isn't as durable as the other two lids. I dropped the bottle once, and the straw lid cracked immediately. Luckily, a replacement straw lid costs just a few dollars.
If you were to buy two extra lids for a Hydro Flask, it would cost you just as much as the bottle. The Iron Flask is both an innovative and economical option. It even has a lifetime warranty. And here is a direct compassion between Hydro Flask vs Iron Flask.
Pros
Three different lids
Easy to clean
Doesn't impart a metallic taste
Good temperature retention
Lifetime warranty
Fifty Fifty
Specs
Volume: 64 oz
Empty weight: 1.9 lb
Body material: Stainless steel
If you are looking for something even bigger than the Ozark, the Fifty-Fifty Growler may be the best double-wall vacuum insulated bottle for you. Rest assured that the Fifty Fifty will keep you hydrated from sunup to sundown.
Thanks to its 3-finger lid, the Fifty-Fifty is a great bottle for workouts or day hikes. The one-of-a-kind grip gives the bottle a comfortable feel when carrying it around.
The lid is leakproof and easily removable, so you won't have a hard time washing the bottle. However, Fifty Fifty is not dishwasher safe.
The double-wall insulation is solid, but it doesn't stand out. The bottle will never sweat, but its temperature retention doesn't come close to that of the Hydro Flask. Still, it will keep your water reasonably cold for 24 hours. Here is review of Hydro Flask and Fifty Fifty.
Pros
Easy to wash by hand
Durable
Easy to carry
Large capacity
Good value for money
Cons
Thermoregulation could be better
Takeya Actives
Specs
Volume: 24 oz
Empty weight: 1 lb
Body material: Stainless steel
The Takeya bottle is a great companion for day hikes and walks around town thanks to its convenient carrying handle and easy-to-drink-from spout.
Although it isn't the first stainless steel bottle, I would recommend it. It's an excellent bottle for those who value simplicity and ease of use.
I really like the lid design. The lid is wide, so the bottle is easy to fill. There is a screw-top drinking spout on the cover that allows you to drink water on the go without having to worry about spills.
Many other brands have a similar lid design, but I'd say that Takeya has the simplest leak-free version of this cap.
The bottle comes a bit short when it comes to durability. I used the Takeya for only a few weeks, and the carrying handle hinges already started showing signs of wear. And of course I have a comparison of Hydro Flask vs Takeya.
Pros
Affordable
Convenient carrying handle
Excellent leak-free cap design
Simple and easy to use
Lifetime warranty
Cons
The carrying handle is not durable
S'well
Specs
Volume: 25 oz
Empty weight: 0.6 lb
Body material: Stainless steel
I had a swell time testing this water bottle (sorry, I couldn't help myself, read the comparison of S'well and Hydro Flask). It keeps cold drinks ice cold, and it keeps my coffee hot throughout the workday. When it comes to thermoregulation, the S'well is just as good as Hydro Flask or Yeti.
The stainless steel water bottle features the brand's own "ThermaS'well" technology. Essentially, it is triple-layer insulation that uses food-grade stainless steel and copper. The extra layer of copper bolsters temperature retention, while the 18/8 stainless steel prevents flavor transfer.
To test out the insulation, I had filled up the bottle with ice-cold water and left it on my kitchen counter for a whole day. The temperature of the water rose only 7.1°F after 24 hours.
This is one of the most stylish water bottles you'll find on the market. As far as color options go, no otter brand comes close. I particularly like the Supernova coating; it's absolutely mesmerizing.
Although it is a great Hydro Flask alternative overall, the S'well comes with a caveat. Unlike the Hydro Flask, the S'well bottle will take a beating after a few harsh drops.
I dropped it on concrete from a height of five feet just a couple of times. The denting was more than noticeable; the bottle couldn't stand up straight after that. But, even though the drops exposed the bottle's weaknesses, they didn't make it unusable.
Pros
Beautiful design
Wide variety of color options
Impressive temperature retention
Great value for money
No flavor transfer
So What's the Best Hydro Flask Alternative?
Like the Hydro Flask, the Yeti Rambler really has it all. I've had the Rambler for a few years now, and it's still going strong, I believe it is the best insulated water bottle. The weight is high, the price is high too, but I have no doubts that the Rambler is the best alternative to the Hydro Flask.
FAQs
What water bottle is like Hydro Flask?
The bottle that is most like Hydro Flask is the Yeti water bottle. It compares well in design, colors, and choice of volumn.
Is there anything better than a Hydro Flask?
I own both Hydro Flask and Yeti bottles for day to day use. It is almost impossible to tell the difference between the two.