I tackled the Annandale Way a few years ago. This is a fairly new long-distance trail that runs along the river Annan. Although it's only a 55-mile walk, I gained a whole new perspective on my home country during my journey. While exploring the South West on foot, I discovered new places and rediscovered old ones.
Almost everything about the walk was wonderful, but there was one tiny problem— I couldn't find a proper guidebook or a website about the trail. Even today, the Annandale Way isn't a well-known walk, so you may have a hard time finding the information you need.
But don't let this stop you from walking the Annandale Way. To help you plan your adventure, I'm sharing everything I know about this lovely walk.
Overview
Length: 55 miles
Region: South West Scotland
Start: Town of Moffat
End: Solway Firth
Time required: 4 to 6 days
When to walk: May to September
Difficulty: Moderate to difficult
Direction: North to south
Established in 2019, the Annandale Way is one of the most recent additions to the network of Scotland's Great Trails. The 55-mile long-distance trail gets under the skin of the landscape; it offers hikers glimpses into the hidden secrets and history of this tranquil and quiet part of Scotland.
In fact, I discovered it by chance. I stumbled upon some signposts on my way to Dumfries one day. Since I had never heard of it before, it aroused my curiosity.
The Annandale Way begins high above the source of the River Annan. Before dropping down its eastern side, the trail circumnavigates the Devil's Beef Tub. So, the first section of the trail is essentially a circular day hike, beginning and ending in the picturesque market town of Moffat.
From Moffat, the trail heads south, running over farmland, through forests, and down to the valley. The Way branches off into two routes at Millhousebridge.
The eastern arm of the trail passes through Eskrigg Nature reserve. The western arm of the trail goes through Lochmaben, up past the Joe Graham Monument. It offers great views of Castle Loch and the entire strath of Annandale.
The two routes converge again near Hoddom Bridge. The rest of the trail follows the beautiful River Annan all the way to Newbie, near Annan, where the river meets the sea. The trail ends at the mighty estuary that represents the natural border between Caledonia and England.
The trail was developed by local communities who live along the Way, in partnership with Sulwath Connections. To help promote Annandale as a great destination for a walking holiday, local estates and farmers offered their support to the project.
Near the village of Beattock, the Annandale Way links to the Southern Upland Way, another one of Scotland's Great Trails. Check out our guide on hiking the Southern Upland Way as well.
The Challenge
The trail utilises a mix of farm and forest tracks, country roads, and footpaths with some cross-country sections. Although the circuit north of Moffat (altitude gain of 1640 ft) and the climb up Joe Graham's Monument are more challenging, the Way is mostly a low-level trail.
Still, this doesn't make it an easy walk. Featuring many pathless moorland sections and some hillwalking, the Way is only suitable for those who have some experience walking on high ground.
Walkers with mobility issues and young children may find some sections of the trail to be too difficult.
Terrain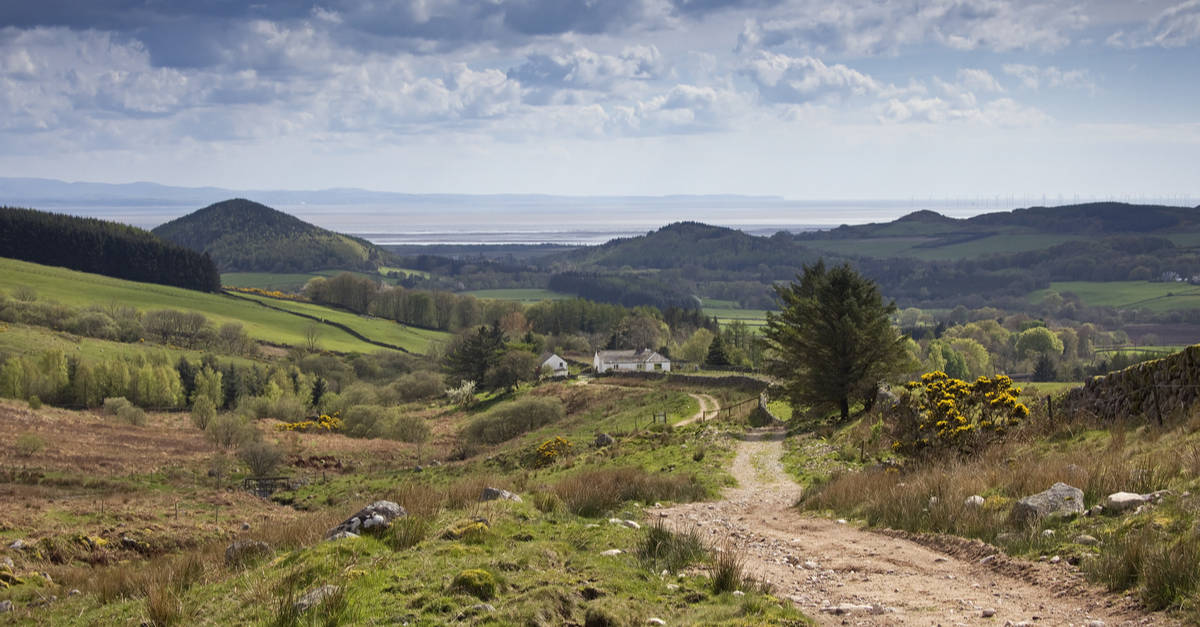 One of the best things about the Way is the variety of the terrain. The going underfoot varies from trod paths across the open hillside and fields to roadside verges, minor roads, and even some tarmac sections.
The field-edge paths with long, wet vegetation can be quite difficult. If the weather is poor, be prepared for slow going on some challenging terrain. Moreover, make sure to dress the part.
Even in dry summer, the trail can be muddy or boggy in places. No matter when you decide to walk the Way, bring a pair of high-quality hiking shoes.
Things get much easier once you pass Hoddom Bridge. Along this stretch of the trail, the gradients are barely noticeable.
Direction and Route Options
Most people walk the Way from north to south. I didn't mind tackling the high ground first so I also opted for the traditional approach. The fascinating views over the Firth of Solway were a fitting climax of my adventure.
But there are benefits to walking the trail south to north, especially if you are new to long-distance walks. You will have the prevailing wind at your back if you undertake the challenge from coast to summit.
Moreover, walking the trail south to north allows you to steadily build up stamina for the first few days, saving the most strenuous section for the end.
As mentioned, the route splits into two routes at Millhousebridge. There's the eastern route via Lockerbie and the western route via Lochmaben.
Although the western branch offers gorgeous views over Annandale from Almagill Hill, it is more strenuous. If you are a beginner, you may want to opt for the eastern route. Even though the eastern route is a bit longer, it is much less hilly.
It's worth considering your accommodation and daily distances before choosing a route.
The section from Moffat to Locmaben and the section from Moffat to Lockerbie are too long for most walkers. But, no matter which route you choose, you can easily split it by taking the bus.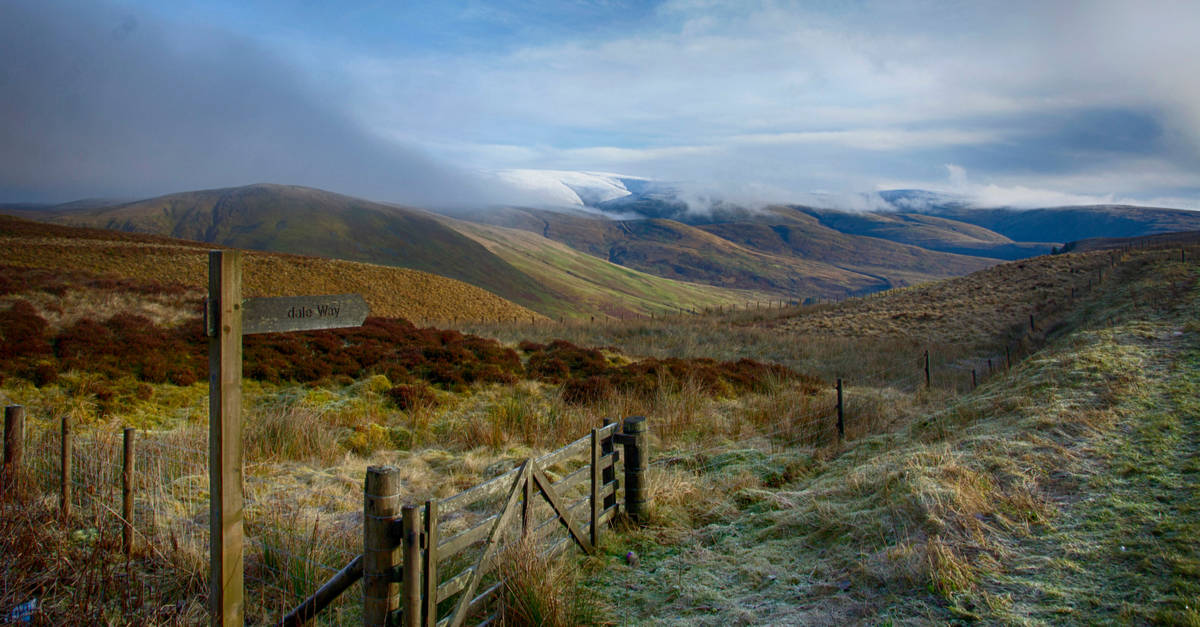 Little-known, quiet routes are generally not well-waymarked. But I'd say that the Way is an exception. Waymarks are attached to boulders, trees, gates, fence posts along the valley and the hills. Some may not be obvious at a glance, so scan the area if you don't see a waymark.
En route, you will come across many metal gates with large latches or levers. You will spot such gates across a field before you see a waymark. They stand out from the usual farm gates.
There were a few short stretches along the trail where there were no signposts, but I didn't find it to be a problem.
Low clouds did make things a bit difficult for me on the hillside before Joe Graham's Monument, but not too much. Sill, you'd want to learn how to use a map and compass before you begin your adventure.
I brought the OS 322 and 232 maps with me and downloaded a GPS track onto my smartphone. It was a DIY map that I found online.
I must admit that I found the lack of up-to-date resources about the walk to be a bit frustrating at times. When I was walking along the B7020, one of the least scenic stretches of the trail, one fellow told me that they've taken the route off the road.
Even though I could've kept moving, I decided to retrace my steps and walk the new route.
Luckily, things have changed for the better since I walked the trail. This online map seems to be fairly accurate.
I couldn't find any guidebook when I walked the trail. But Rucksack Readers published one in 2017.
Even though it lacks all the latest updates and news regarding the trail, it's still quite good. It includes a lot of background information, including details about history and wildlife along the route as well as detailed 1:44,000 maps.
The Rucksack Readers guidebook is printed on waterproof paper; there's no ebook version. That said, having a guidebook isn't a must. You can find all the information you need online.
Planning Your Itinerary
Most people complete the trail within 4 to 5 days. I stuck to the official itinerary and completed the walk in 5 days. My itinerary looked something like this:
My 5-Day Itinerary
1st Stage: Moffat Circuit—14 miles
2nd Stage: Moffat to St Ann's—9 miles
3rd Stage: St Ann's to Lochmaben—10 miles
4th Stage: Lochmaben to Hoddom Castle—13.5 miles
5th Stage: Hoddom Castle to Solway Firth—9.5 miles
If you want an easier itinerary, this one might work better for you:
1st Stage: 1st Stage: Moffat Circuit—14 miles
2nd Stage: Moffat to St Ann's—9 miles
3rd Stage: St Ann's to Lockerbie—13 miles
4th Stage: Lockerbie to Hoddom Bridge—8.5 miles
5th Stage: Hoddom Bridge to Solway Firth—9.3 miles
Don't forget, you can easily split the second section into two. Just make sure to arrange accommodation and transportation in advance.
If you are up for a bigger walking challenge, may I suggest the following itinerary:
4-Day Itinerary
1st Stage: 1st Stage: Moffat Circuit—14 miles
2nd Stage: Moffat to Lochmaben—18 miles
3rd Stage: Lochmaben to Hoddom Castle—14 miles
4th Stage: 5th Stage: Hoddom Castle to Solway Firth—9.5 miles
Getting There
The public transport links to the Way, and those along the route, are excellent. If you are in Glasgow, you can take the X74 bus to Moffat.
If you are stationed elsewhere, it may be easier to reach Moffat from Carlisle—either by bus or train. Buses between these two towns run frequently. You can find more information on the Stagecoach website.
If you are planning on driving there, Gretna to Glasgow (A74) and Gretna to Stranraer (A75) are the two main roads through the region. In case you are coming from England, you can take the M6.
If you want to split the long second section and return to Moffat, you can hop on the 74/X74 bus that runs between Moffat and Dumfries. On request, the bus stops on the A701 road near St Ann's.
Although mainline trains mostly bypass Annandale, I still think that taking the train is the simplest way to return from Annan. The rail line between Glasgow and Carlisle stops at Annan. Some trains also stop at Lockerbie. Check the Traveline Scotland website for more information.
If you are coming from Ireland, you can reach the Way by sea. Head for Belfast or Larne and then take the ferry to Cairnryan. It takes about two hours to get from Cairnryan to Moffat or Annan by car.
Accommodation and other Services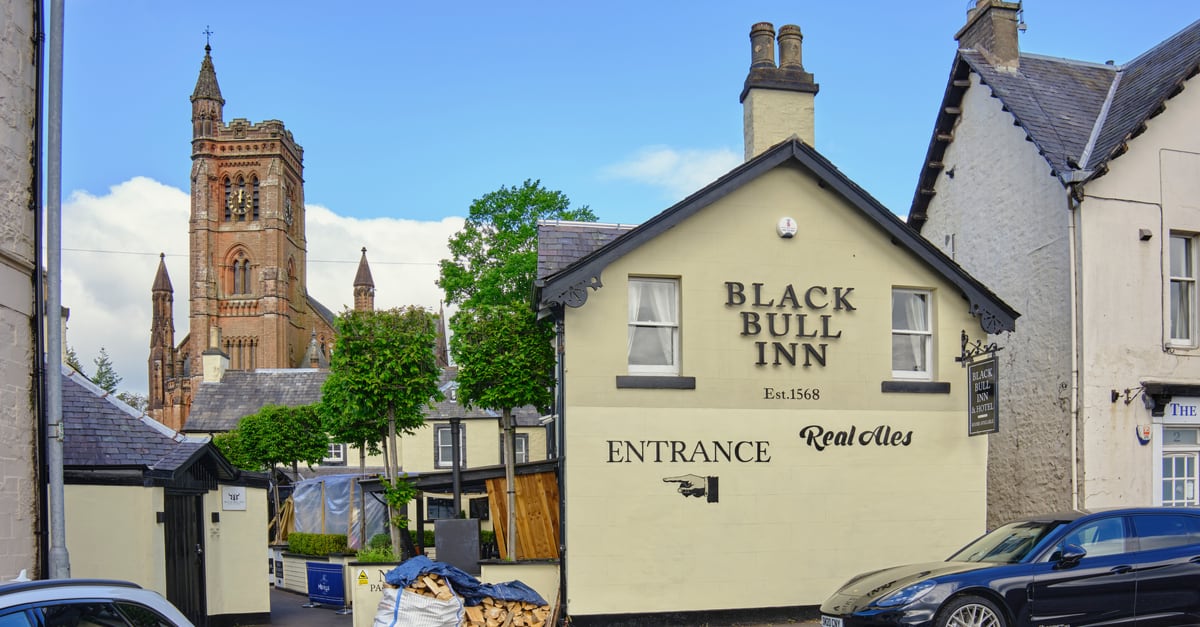 There is plenty of accommodation on or close to the route in Moffat and Annan. In Lockberie, you will find a few cosy B&Bs and guesthouses in the town centre. As far as I know, there are only two hotels in Lochmaben. Both of these are very close to the route.
Other villages and towns along the trail may be a bit problematic. However, many accommodation providers in the area will gladly pick you up at the endpoint of the closest stage and drop you off at the same spot the next day.
If you don't want to rely on lifts from accommodation providers, you may have to walk a significant distance to find accommodation. When you reach Ecclefechan, for instance, you will definitely have to go off route to find a B&B.
The Annane Way can easily turn into an endurance test if you add a few miles to every other stage. To avoid this, I decided to bring my tent and sleeping bag with me.
There is no accommodation at Newbie, so you will have to return to Annan on foot if you want to sleep in a warm bed.
Many accommodation providers will also offer to transport your luggage to your next stop. If you'd like to organise luggage transfer on your own, I suggest using local taxi services.
You can use the VisitScotland website and the official Annandale Way website to search for accommodation.
Camping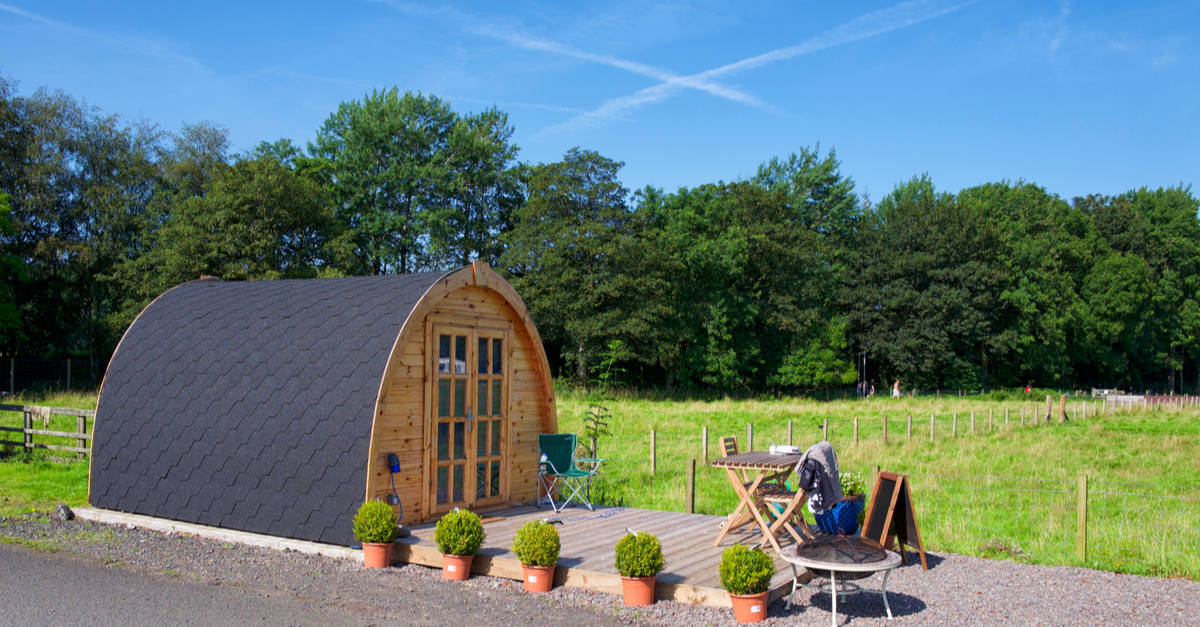 The Annandale Way was a full camping experience for me. I found plenty of designated campgrounds on the Way. All of them were right on the path. There are campsites at Moffat, Castle Hoddom, Locmaben, and Annan.
However, I did have a hard time finding water and wild campsites along some stretches of the trail. That said, I think that it's possible to wild camp along each section of the trail. In my opinion, the best wild campsites are at Lochmaben.
If you plan on camping (especially if you plan on wild camping), make sure to familiarise yourself with the Scottish Outdoor Access Code. Wild camping is perfectly legal in Scotland, as long as you exercise your access rights responsibly.
Check out my guide to wild camping in Scotland for more information. You may also want to read my guide to camping in the rain.
The trail has been developed with the support of local communities, including local estates and farmers, and it's important to maintain goodwill and respect their privacy and property. Never pitch a tent near buildings, gates, and livestock fields. You also must be extra careful not to disturb the local wildlife.
Check out my post on hiking St Cuthbert's Way and the West Highland Way as well.
FAQs about the Annandale Way
What Is the Best Time of Year to Walk the Annandale Way?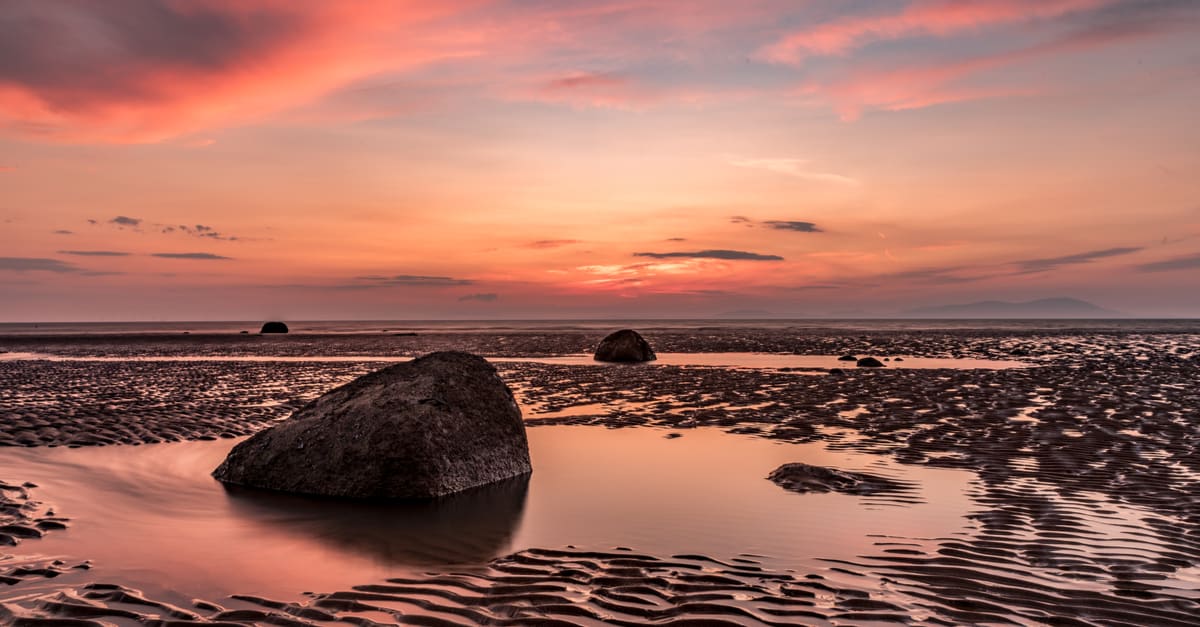 May to September is the best time to walk the Annandale Way. You'll be able to enjoy longer daylight hours and you'll have the best chance of fine dry weather.
Can I Bring My Dog With Me?
While it's possible to walk the Annandale Way with a furry companion, I'd think twice before doing so. If you want to bring your dog and stay at B&Bs, it may be impossible to organise your walking holiday.
Apart from assistance dogs, many accommodation providers refuse to accept dogs. Others only accept 'very well-behaved' pets. Dogs can also create problems on sections where there is livestock in the fields.
What Are Some of the Highlights of the Annandale Way?
Some of the highlights of the trail include:
Fascinating wildlife
The lovely market town of Moffat
Pristine waters of the River Annan
Iron Age settlements in Upper Annandale
The vendace of Lochmaben
The lush green valley of the River Annan
Eskrigg Nature Reserve
Castle Loch
Ruined castles, churches, and fine red sandstone buildings
The stunning coast of Dumfries & Galloway