If you are a beginner, the Great Glen Way is one of the best introductions to long-distance walking. It Is also the perfect continuation of the West Highland Way, as it starts in Fort William.
Stretching from coast to coast, the trail follows the major natural faultline of the Great Glen. Most of the route keeps to lower levels, following the complete lengths of two lochs and the forests above Loch Ness. It also runs along the beautiful towpath of the Caledonian Canal.
I have walked the Great Glen Way a couple of times, in preparation for bigger and tougher adventures. If you are planning to walk the GGW, allow me to share a few words of advice. You'll find everything you need to know about the trail in the following guide.
Overview
Length: 79 miles/117 Km
Start: Fort William, Scottish Highlands
Finish: Inverness, Scottish Highlands
Time required: 5 to 7 days
When to walk: All-year round
Difficulty: Easy
The Great Glen Way is one of the four original Scotland's Great Trails. The route was first proposed way back in the 70s. But Prince Andrew officially opened the GGW in 2002, in Inverness. Yes, you're right, the route does officially begin in Fort William, but the Prince happened to have some other business in Inverness, so this was more convenient for him.
Since it is relatively easy-going, the route quickly became a popular destination for walking holidays. But, it is still much quieter than the West Highland Way or Hadrian's Wall Path.
The scenery along the entire route is quite lovely. The terrain varies widely, from urban pavements and purpose-built paths to formerly military roads, old drovers' roads, and forest tracks. Oh, and I mustn't forget the lovely canal towpath.
The trail passes through several quaint villages along the Great Glen, and offers good access to shops and accommodation. It is suitable for cyclists as well, even though it's primarily a walking route.
The Great Glen Way kicks off at the edge of Loch Linne in Fort William, a magnificent sea loch that connects with the Atlantic Ocean. It takes you along the Caledonian Canal, an engineering jewel designed by Thomas Telford that links the Loch Linnhe, Loch Oich and Loch Ness and thus, creates a pass from the western shore to the Moray Firth.
The Caledonian Canal opens into Loch Lochy north-east of Fort William, at Gairlochy. You will continue through the village of Laggan, onto Loch Oich and then again along the canal to Fort Augustus at the southwest peak of Loch Ness.
Next, the route leads you along the northern shore of this legendary lake to Invermoriston, Drumnadrochit, through moor and farmland onto the crossing of the Caledonian Canal and the River Ness before entering the city of Inverness. From there it's just a very short distance before the canal and the river become one with the sea at the Moray Firth.
The 117 km can be walked within a period of 4 to 7 days, depending on your stamina, rhythm and personal preference. The official finish/starting point of the trek is the Castle of Inverness, as the Great Glen Way can be hiked from either direction.
How Difficult Is the Great Glen Way?
Avid long-distance walkers consider the GGW to be one of the easier of Scotland's Great trails, and I agree. Along the southern stretch of the trail. The walking is on low, level and easy-to-navigate canal towpaths and forestry paths for the most part. Moreover, there are many way-marking signposts along the Glen Great Way.
But, if this is your first long-distance hike, take this with a grain of salt. I don't want to lull you into a false sense of security. Walking 10 miles a day, several days in a row, requires stamina.
You should be able to walk a few miles without getting out of breath, with a full daypack on your back.
If you are not sure whether you'll be able to do this, go on a couple of day hikes with your backpack before taking on the Great Glen Way. If everything feels alright, you're good to go.
Now, when I say a full backpack, I don't necessarily mean a really heavy backpack. You might want to carry a heavy rucksack when training for the Great Glen Way, as an endurance exercise. But, when the time comes for your walking holiday, try to pack as light as possible.
The northern half of the Great Glen Way is a bit tougher than the southern half. It features high, moorland walking and steep ascents and descents. If you walk the trail from Fort William to Inverness, you will have built up a bit of stamina by the time you get to the toughest part.
The route is pretty easy to navigate. I brought a Harvey map with me both times but I hardly even looked at it. My compass never left my backpack, because the visibility was good. I was lucky with the weather though.
Still, I'll never stop telling new and aspiring outdoor enthusiasts to learn how to read a map and to always bring a compass with them. Even though you won't get lost on the Great Glen Way, navigational skills are important to have. Plus, map reading is fun.
Walking the Great Glen Way South to North vs. North to South
The first time I walked the GGW, I started in Inverness. No, I wasn't misled by a member of the Royal Family, I just found a very cheap flight from Glasgow. The second time I walked the route, I did it south to north.
Walking south to north is the general recommendation because 'the wind is behind you.' But, in my opinion, it's perfectly acceptable to walk the Great Glen Way in either direction.
I can't say that one way is particularly nicer or easier than the other. The route from Inverness to Fort William is a bit quieter. On the other hand, I really liked the finish into Inverness the second time I walked the trail.
If you are a beginner, you still might want to walk the trail from Fort William to Inverness, due to the flat terrain.
What Is the Best Time of the Year to Walk the Great Glen Way?
March through October is the main walking season in Scotland. June and September are the best months to walk the Great Glen Way. These months balance all the variables, such as available accommodation, the amount of midges, the number of other walkers on the path, and weather.
There is a west-east split in climate in the Highlands. The west gets the full force of Atlantic low-pressure systems, the east is generally drier.
The closer you are to Fort William, the more likely you are to get wet. Inverness, on the other hand, is one of the driest places in Scotland. Driest in Scottish terms, I mean.
Spring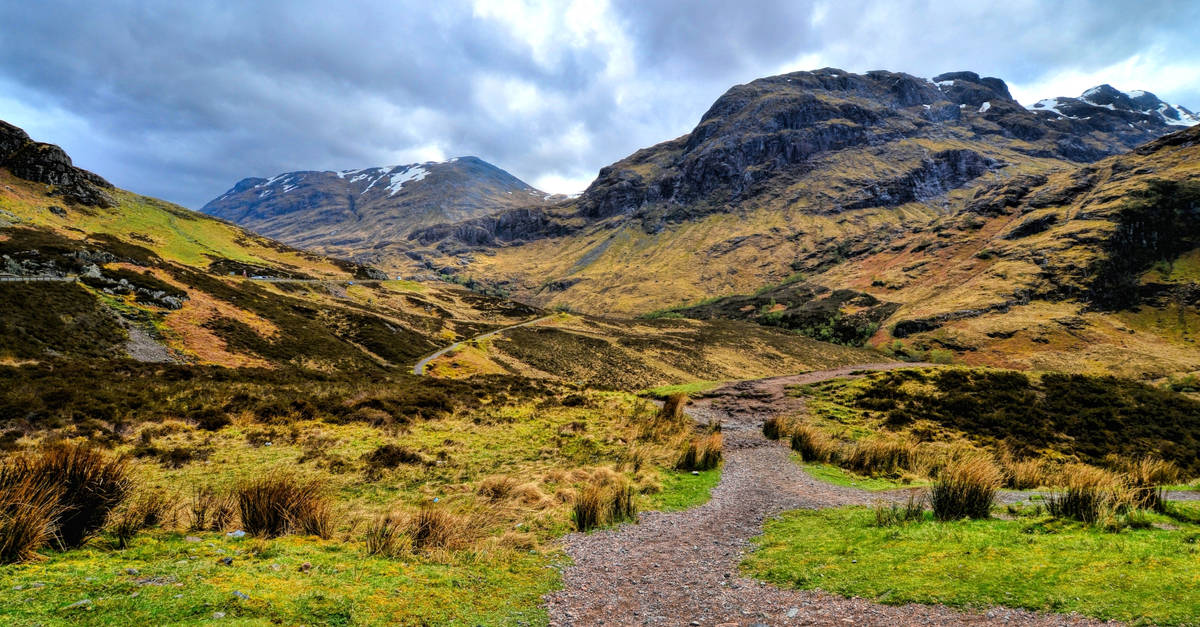 Many walkers choose to do the Great Glen Way around the Easter holiday (March/April). However, spring can be quite unpredictable in terms of weather.
On the plus side, there are no midges and the land is just waking up to spring. May can also be a good time to walk the Great Glen Way—in terms of weather, of course. However, finding accommodation in May can be a nightmare (if you haven't booked in advance) because the trail can get very busy at this time of year.
Summer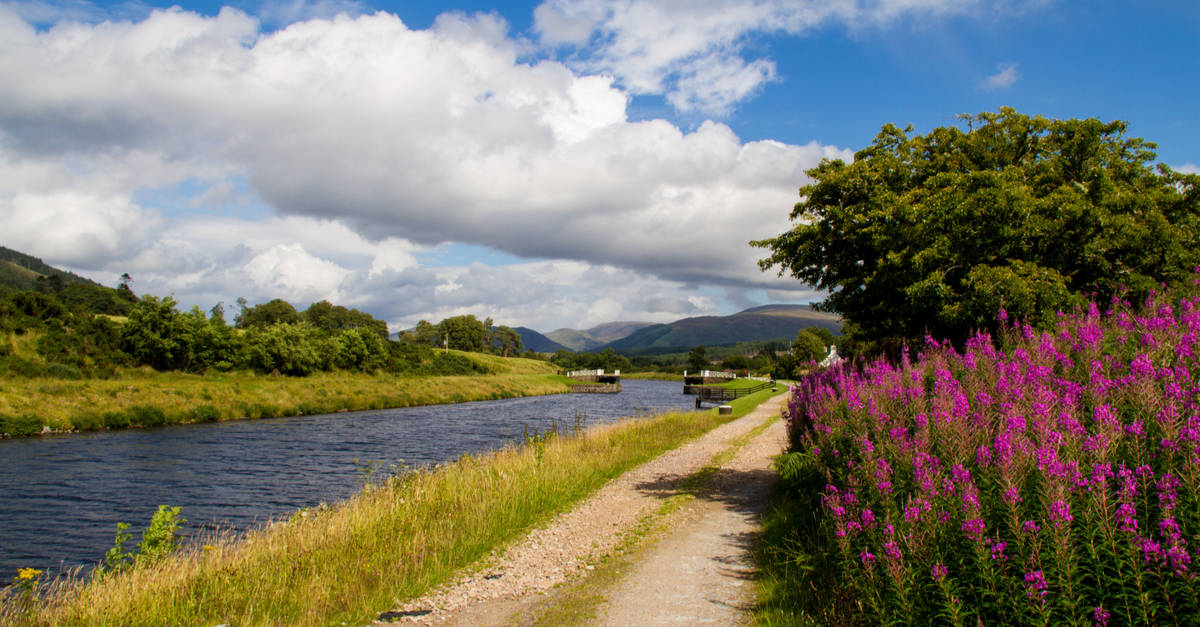 June has all the advantages of May, such as dry and warm weather, but without the crowds. I recommend avoiding the trail in July and August. During these months, the number of tourists and midges drastically increases.
You can use a midge-repellant to deal with the swarms of midges, but it won't help you break up the crowds and queues in pubs and shops. Moreover, you would need to book accommodation well in advance.
If you plan on walking the Great Glen Way in summer, I recommend wild camping. This way, you'll have more flexibility and won't have to worry about finding a place to sleep.
Luckily, wild camping is legal in Scotland, and I think it's the best way to explore Scotland's trails. If you choose to camp in the wild, just make sure to stick to the Outdoor Access Code.
Autumn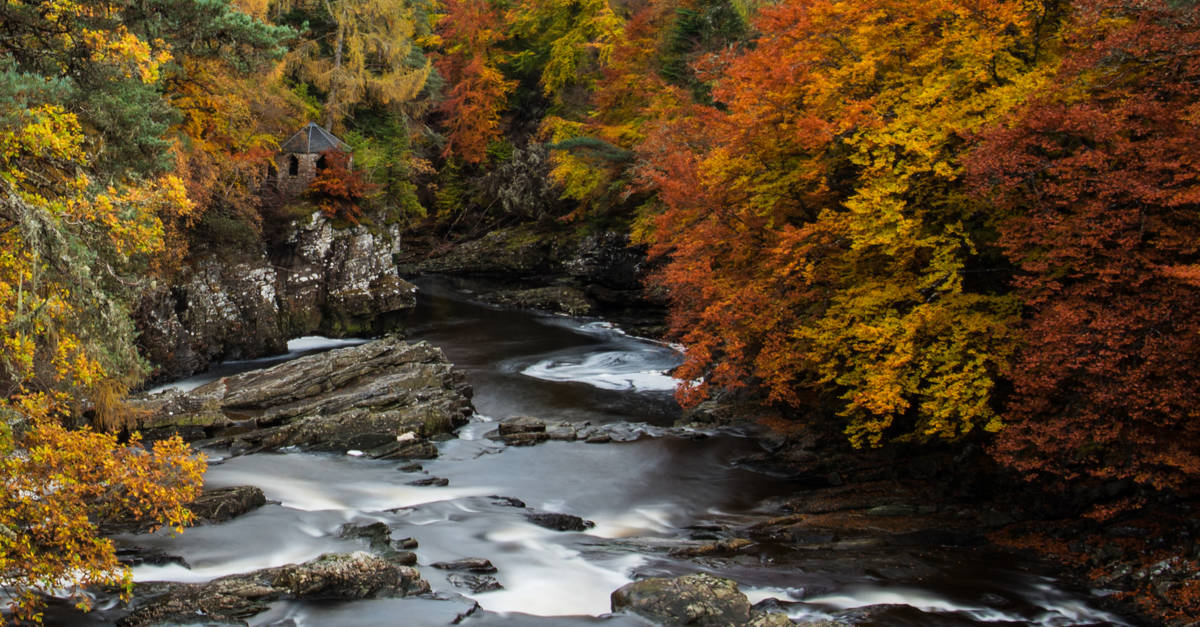 Although it can be quite wet, especially around Fort William, September is an excellent month to do the Great Glen Way. The midges are not that annoying, the crowds of tourists thin out, and the colours of autumn foliage are absolutely gorgeous.
Winter
The Great Glen Way is open year-round. Compared to other long-distance trails of Scotland, the GGW is not that brutal in winter. Nevertheless, it's a challenge.
The days are shorter, the weather can slow you down, and many B&Bs, shops, and facilities along the way are closed. Moreover, the low route between Fort Augustus and Invermoriston may be closed during the winter. There is an alternative route, known as the high route, but it is a bit more challenging. Still, you can see a handful of experienced walkers on the Great Glen Way every winter.
No matter which month you choose—always assume that it's going to rain. These are the Highlands after all. The GGW is enjoyable even when it's raining, just make sure to bring quick-drying clothing and a poncho or a rain jacket.
Getting There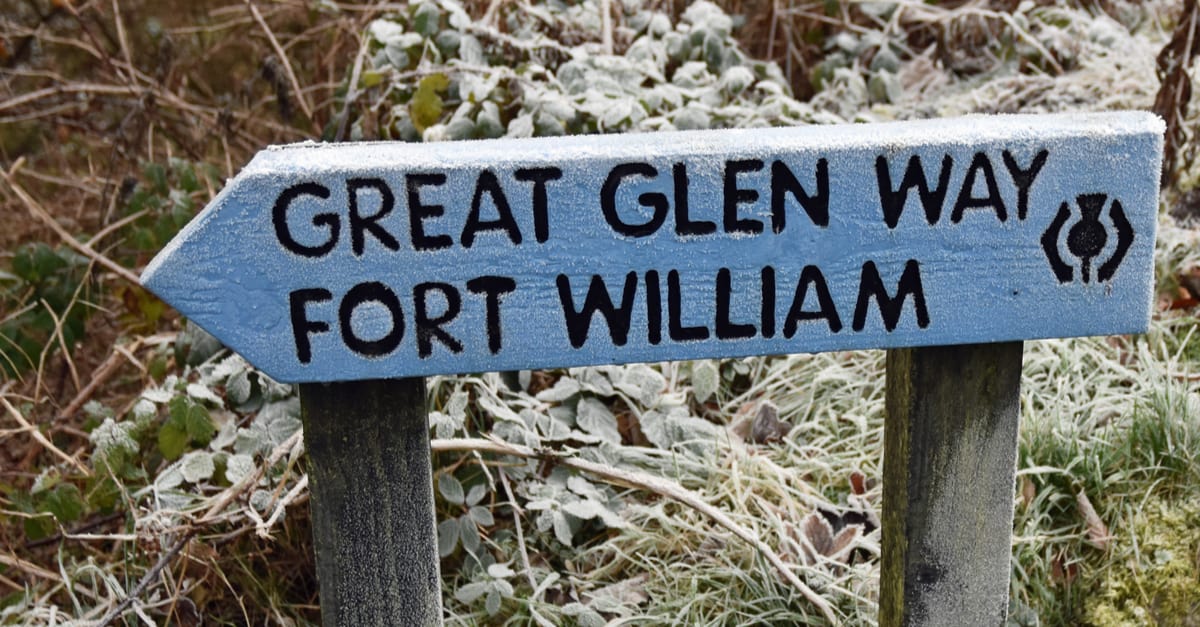 You can reach Fort William by train or bus from Glasgow. Getting home should be even easier. There are regular train and bus lines from Inverness to Aberdeen, Edinburgh, and Glasgow. You also have the option of flying out.
When it comes to public transport along the route itself, your options are limited. With the exception of Spean Bridge, there are no railway stations along the route. Moreover, there is no direct train link between Fort William and Inverness.
But there is a bus line that links Fort William and Inverness, and it stops in almost every village and town along the route, including Spean Bridge, Laggan, Fort Augustus, and Invermoriston. It takes about an hour and a half to get from Fort William to Inverness by bus.
If you need more information about public transportation in the highlands, you can find more information at the official website of Traveline Scotland.
How Long Does It Take to Complete the Entire Route?
Most walkers complete the Great Glen Way in six days. I opted for a six-day itinerary each time I walked the trail. I mostly stayed at B&Bs the first time I did the GGW. The second time, I brought my tent with me and camped every night.
If you are quite fit, and up for a challenge, you can easily complete the walk within 5 days. If this is your first long-distance hike, you may want to opt for a 7-day itinerary.
A typical 6-itinerary looks something like this:
1st Stage: Fort William to Gairlochy — 10.5 miles
2nd Stage: Gairlochy to Laggan Locks — 12 miles
3rd Stage: Laggan Locks to Fort Augustus — 10.5 miles
4th Stage: Fort Augustus to Invermoriston — 7.5 miles
5th Stage: Invermoriston to Drumnadrochit — 13.75 miles
6th Stage: Drumnadrochit to Inverness — 19 miles
If this is your first long-distance hike, splitting the last 19 miles into two stages may be a good idea. Then, the last two days of your itinerary might look something like this:
6th Stage: Drumnadrochit to Loch Laide 9 miles
7th Stage: Loch Laide to Inverness 11 miles
Planning Your Itinerary
To help you plan your Great Glen Way itinerary, I will happily share mine. To keep it simple, I'll mostly talk about my second GGW adventure, when I slept in a tent every night. But I will include other accommodation options, as well as all the useful information I can think of, so that you can easily tailor the itinerary to suit your needs.
Day 0: Fort William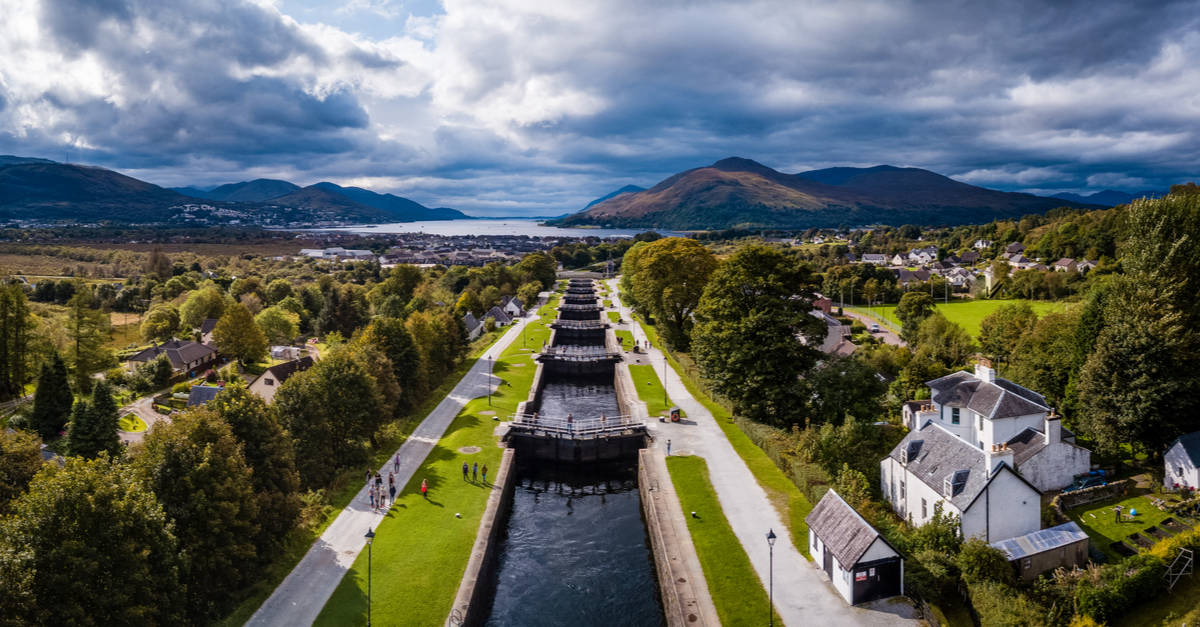 There are plenty of accommodation providers in Fort William. However, there's one charming hostel I really liked.
It's called Fort William Backpackers. I stayed there when I completed the WHW. The facilities in the hostel are a bit dated, but the atmosphere is lovely.
If you are up for an additional challenge, I strongly recommend arriving a few days early to hike the magnificent Ben Nevis—the highest mountain in the UK.
Fort William doesn't have a campground. If you want to test your tent one last time before you kick off your adventure, you can book a spot at the nearby Glen Nevis Caravan and Camping Park. It's about a 45-minute walk from the centre of Fort William.
Services at Glen Nevis Caravan and Camping Park:
Potable water
Electronics charging
Small shop
Restaurant/bar
Hot showers
Toilets
WiFi (£2.per hour/£5 per day)
Laundry
Price per person: £11
Day One: Fort William to Gairlochy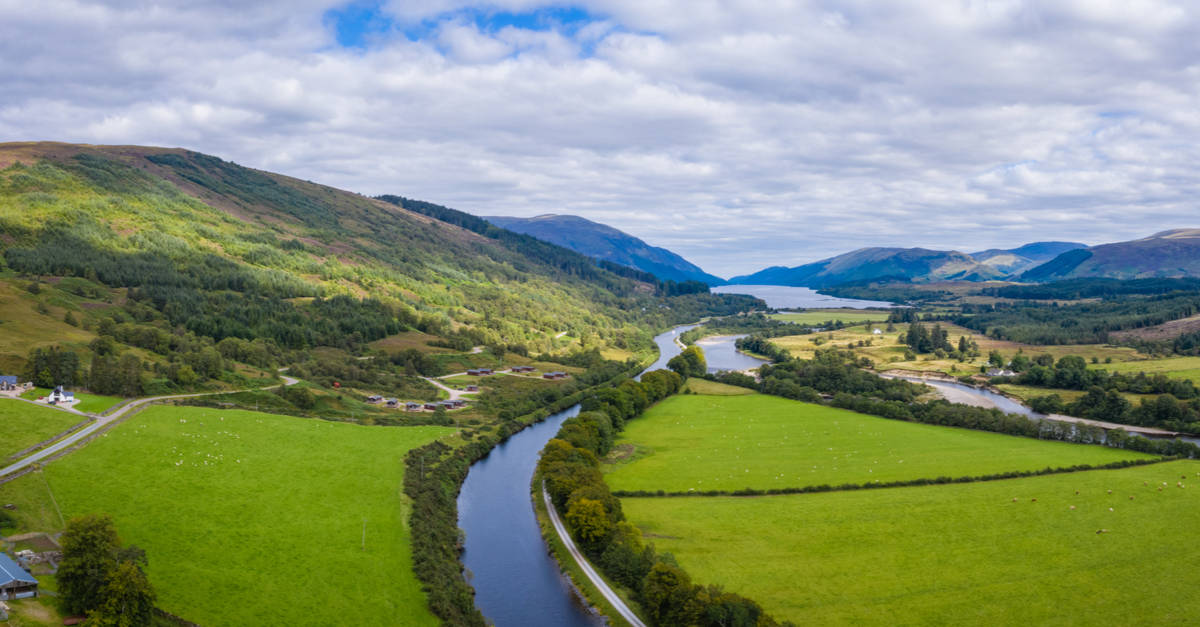 Since it starts at a roundabout at the end of Fort William High Street, the walk kicks off in an unspectacular fashion. But, things pick up from here.
The route follows the shadow of Ben Nevis, through suburban paths, and then continues along the Caledonian Canal. You will pass a few interesting landmarks, such as the Neptunes Staircase, Loch Linnhe, and the ruins of Inverlochy Castle.
The entire section is flat. If this is your first long-distance walk, it's perfect for getting accustomed to walking with a full pack. At the end of the stage, you'll have two options for camping.
There's the Gairlochy Holiday Park and the Moy Bridge wild campsite. I opted to stay at the Gairlochy Holiday Park since the other one doesn't have any facilities. The Gairloch Holiday Park is 15 minutes up the trail from Gairlochy.
Services at Gairlochy Holiday Park:
Dishwashing area
Hot showers
Toilets
Price per person: £7.5
Other campsites:
Old Pines Hotel
Lochaber Lodges
Moy Bridge (wild)
Accommodation providers:
Eateries:
Shops:
Highlights:
Loch Linnhe
Views of Ben Nevis
Neptunes Staircase
Inverlochy Castle
Day Two: Gairlochy to Laggan Locks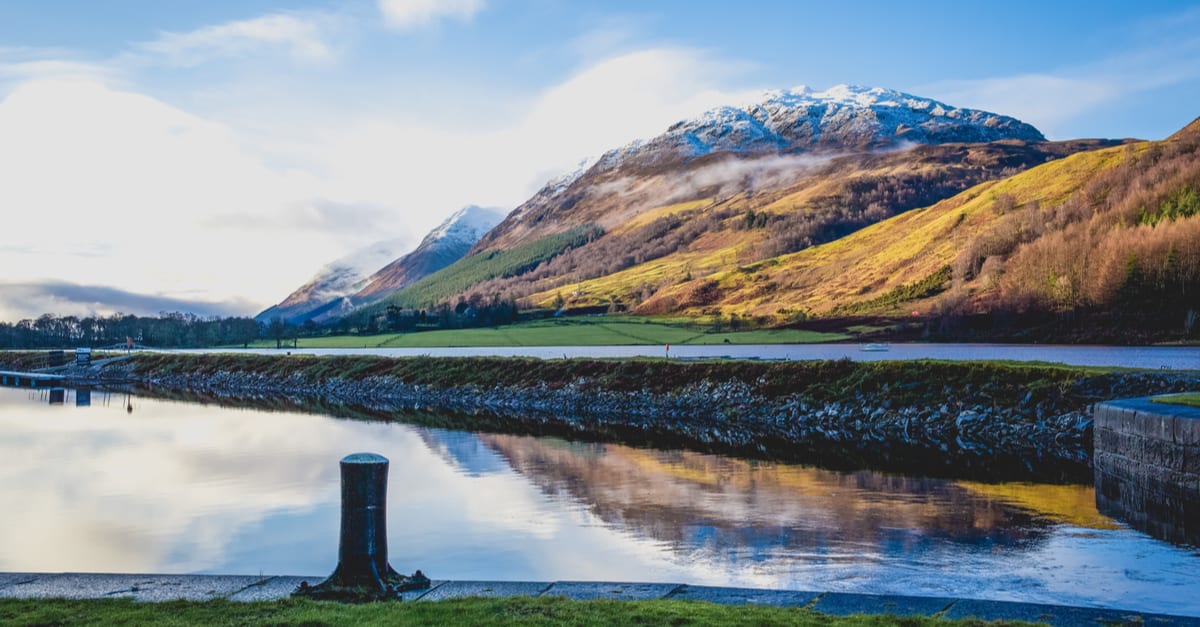 The second section of the trail meanders through stunning woodland and runs along the great expanse of Loch Lochy. The Clan Cameron museum lies on this section of the path.
If you are up for a small detour, Eas Chia-aig, a small but picturesque waterfall, is just 1.5 miles from the trail. You might catch a glimpse of the Pine Martens who live in the lush woodland if you're lucky.
As you approach Laggan, you will walk in the shadows of Sron a' Choire Ghairbh and Meall na Teanga, two magnificent Munros.
I also remember having a nice meal in a floating pub on a Dutch barge—the Eagle Barge Inn.
Unlike the first one, the second stage of the route offers plenty of opportunities for wild camping. One of the best wild campsites on the GGW, Glad-dhoire, lies on this section of the trail, right next to the loch. It even has composting toilets.
Camping options:
Loch Lochy (wild)
Glas Dhoire (wild)
Wild camping
Accommodation providers:
Great Glen Water Park
Glengarry Lodges
Great Glen Hostel
Eateries:
Lochside Larder
Eagle Barge Inn
Shops:
Highlights:
Eas Chia-aig
Views of nearby Munros
Lush woodland trails
Views of Loch Lochy
Day Three: Laggan to Fort Augustus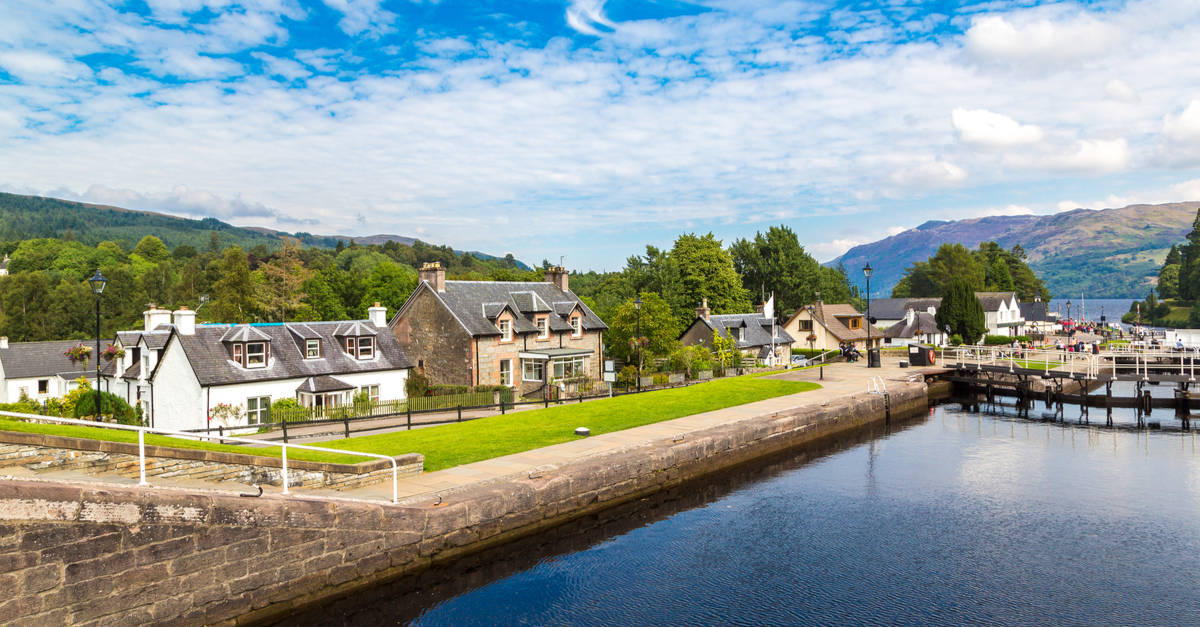 On day three, I continued my walk along the Caledonian Canal. There is one small section that runs through the wild and beautiful woodland on the banks of Loch Oich.
The day offered up plenty of highlights, including views of the Letterfeirn Nature Reserve and the impressive Loch Lochy Munros.
If you have time, take the opportunity to see Oich Bridge. This beautiful old bridge is just a small detour after Loch Oich.
This short and easy stretch ends in the picturesque village of Fort Augustus. Situated on the banks of Loch Ness, it offers plenty of accommodation options, facilities, and shops.
I pitched my tent at Letterfearn, another fantastic wild campsite. Here, you will find two composting toilets and log seating.
Camping options:
Aberchalder Bridge (wild)
Leiterferan (wild)
Kytra Lock (wild)
Cumberland's Campsite
Accommodation providers:
Whitehouse B&B
Richmond House Hotel
Many in Fort Augustus
Eateries:
Bridge House Tea Garden
Many in Fort Augustus
Shops:
Highlights:
Views of Loch Ness
Oich Bridge
Letterfearn Nature Reserve
Caledonian Canal views
Day Four: Fort Augustus to Invermoriston
On day four, I took the first high-route variant of the GGW. The scenery along the route was well worth it.
The section begins in forest tracks and leads up to open moorland. You will get a nice glimpse of Cherry Island. Cherry Island is actually an artificially fortified island that dates back 2,500 years ago. This type of dwelling is called a crannog.
I booked a spot at the Inver Coille Campground. This campground offers some excellent views as well, but I had to backtrack on the main route in order to reach it.
Services at Inver Coille Camping:
Fire pits
Hot showers
Toilets
Other camping options:
Knockie (wild)
Wild camping
Accommodation providers:
The Pole Cottages
Tigh Na Bruach B&B
Glenmoriston Arms Hotel
Some in Invermoriston
Eateries:
Glen Rowan Cafe
Redburn Cafe
Shops:
Invermoriston Post Office
Highlights:
Carn an Doire Mhoir
View over Loch Ness
Day Five: Invermoriston to Drumnadrochit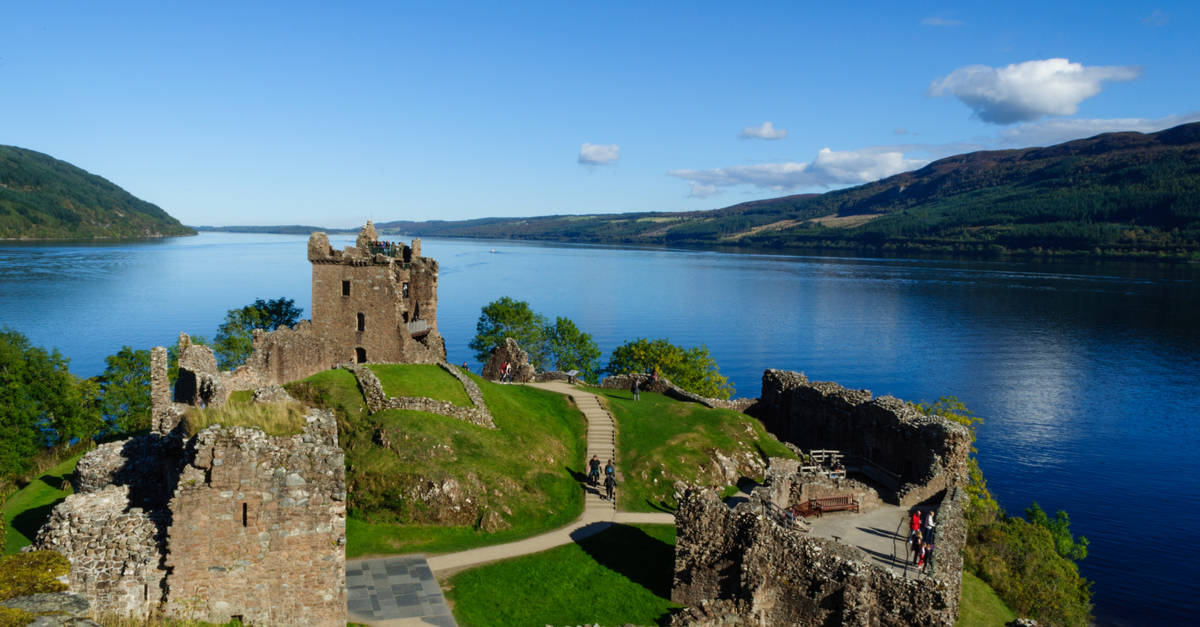 This stage will also offer you two options: the low route and the high route. Even though the ascent was a bit steep, it took the high route again. If you don't mind sweating a bit more in order to reach a few stunning vantage points, I recommend you do the same.
Before heading down to meet up with the low route again, the trail winds around the southern flank of Creag Dhearg. There is also a section across moorland that's a great place for birdwatching.
I stayed at the Borlum Farm Campsite, just outside Drumnadrochit. The campground offers excellent amenities. It's pricier than most designated campsites, but it's worth every penny.
Services at Borlum Farm:
Dishwashing area
Laundry facilities
WiFi
Showers
Toilets
Price per person: £23
Other camping options:
Aberchalder Bridge (Wild)
Foyers (Wild)
Loch Ness Shores Camp
Accommodation providers:
Loch Ness Backpackers
Lochside Youth Hostel
Others in Drumnadrochit
Eateries:
Many in Drumnadrochit
The Pottery Cafe
Shops:
Highlights:
Day Six: Drumnadrochit to Inverness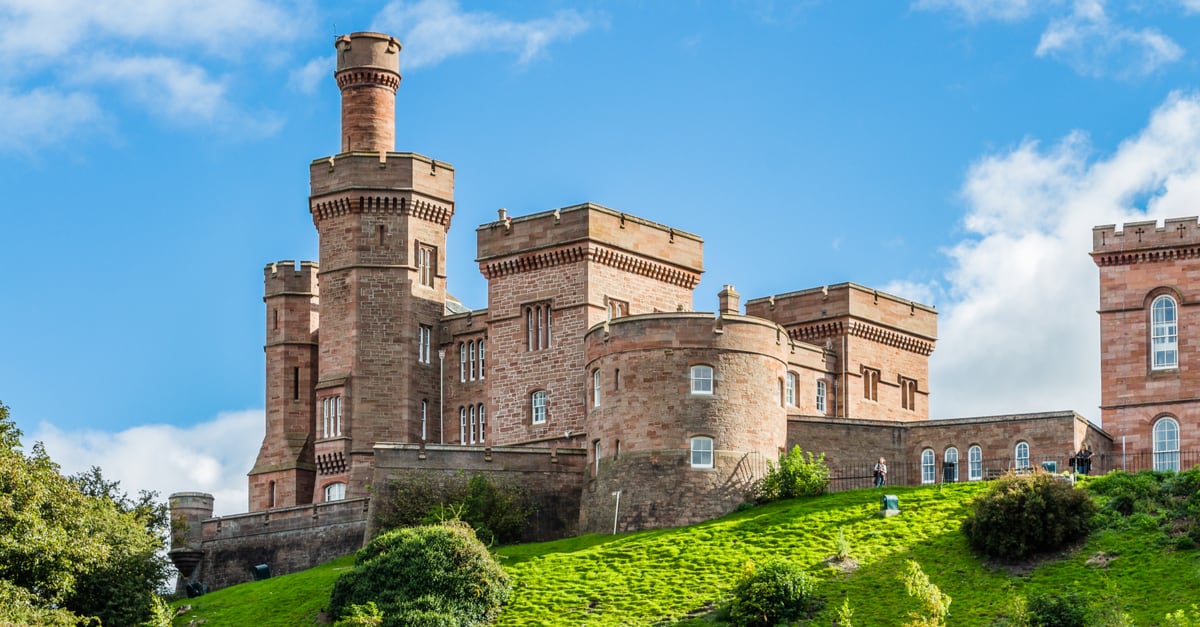 The final day's walk covers over 20 miles, and is considered to be the hardest stage of the trail.
The last stretch of the trail runs through a mix of forestry and farmland. It leads up to the highest point of the GGW. Offering great views over Urquhart Castle and the Cairngorms, the ascent is the perfect way to crown your walking holiday.
If you want to break up the final stage, I recommend staying at the Abriachan Cafe & Campsite. I didn't spend the night there, but I did stop for a nice cup of tea.
The route officially ends at Inverness Castle. I spent my final night at the Bught Park Campsite, located on the edge of town.
But if you want to sleep in a proper bed after spending several nights in a tent, there are many nice hotels and B&Bs in Inverness. Just make sure to book your accommodation in advance.
Services at Bught Park:
Small shop
Laundry facilities
WiFi
Showers
Toilets
Price per person: £12
Other camping options:
Seaport Marina (wild)
Dochgarroch Lock (wild)
Accommodation providers:
Inverness Student Hotel
Inverness Youth Hostel
Many in Inverness
Eateries:
Oakwood Restaurant
Dores Inn
Many in Inverness
Shops:
Highlights:
Inverness Castle
Iron Age Fort
Views of Cairngorms
Views of Urquhart Castle
Baggage Transfer Services
Carrying a backpack full of camping equipment, food, and clothing across the Scottish Highlands may not be your idea of a perfect walking holiday—especially if you plan on covering 12 miles a day on average. There are a few companies that offer this service, but I have not used any of them.
Best Guide Books
There are several reliable guides available including the Walking the Great Glen Way written by Paddy Dillon and published by Cicerone Press. Alternatively, Highland Council provides a free accommodation and service guide to Great Glen Way in PDF version.
This guide will be just fine (even if it doesn't include a map) if you don't plan on deviating from the route as the way is so well-maintained and waymarked.
What to See?
Besides the stunning views watch out for the Neptune's Staircase just outside of Fort William. Named after the Roman god of water, this staircase lock comprises of eight locks making it the longest staircase lock in the UK.
Also, don't miss Urquhart Castle which is one of the most popular stops on the route. It offers excellent views and great photo opportunities. The rumors have it that it's the best place to spot the Loch Ness monster.
Check out my post on hiking the Ayrshire Coastal Path and my guide to hiking the Southern Upland Way as well.