After spending a few cold months cooped up inside, I was dying to get out and explore more of Scotland. I was looking for a trail that's scenic, well-signposted, close to home, not too busy, and with plenty of camping options and services. The Fife Coastal Path ticked all the boxes.
While it's not as famous as the Great Glen Way or Hadrian's Wall Path, the Fife Coastal Path is an incredibly rewarding and well-planned walk. It has everything I like to see on a walk: old castles, whitewashed fishermen's cottages, friendly and accommodating locals, and just enough remote sections. The Fife Coastal Path was much as I'd expected with its sea stacks and beaches.
My goal is to inspire more people to explore this beautiful corner of Scotland, so I'd like to share a few tips as well as the most important details about the trail.
Overview
Length: 117 miles
Region: Fife Peninsula
Start: Kincardine, Firth of Forth
Finish: Newburgh, Fife
Time required: 8 to 11 days
When to walk: May to September
Difficulty: Easy to moderate
Stretching from the Firth of Forth to the Firth of Fay, tracing the coastline of Fife, the Fife Coastal Path is one of the most beautiful walks in the UK.
It was created in 2002. The original route ran from North Queensferry to Tayport. Even though the trail was extended to Newburgh in 2011, many people still opt to walk the shorter, original route.
The Fife Coastal Path is one of Scotland's Great Trails. About 35,000 people walk the entire trail every year.
The trail links picturesque harbours, fishing villages, historic mining towns, and the ancient university town of St Andrews. Offering a wide range of terrain and scenery, the Fife Coastal Path is perfect for those who like wildlife, castles, churches, woodland as well as beautiful beaches.
Although urban walking is inevitable, the trail runs through a few wildlife reserves and estuaries, giving you a chance to spot puffins, sea eagles, elder ducks, dolphins, and seals. History is also everywhere—from prehistoric carvings to ruined castles and churches.
I mustn't forget to mention the famous golf courses of St Andrews and the many arts festivals that take place along the route. The Fife Coastal Path truly has something for everyone.
For those who are up for a bigger challenge, there is the Elie Chain Walk—the Scottish version of the via Ferrata. You can coasteer, climb, and scrabble along the Fife cliffs. If this seems a bit intimidating, don't worry, it is optional.
Although the path isn't connected to any other great trail of Scotland, it links to the Fife Pilgrim Way. It's also possible to cycle the Fife Coastal Path.
Difficulty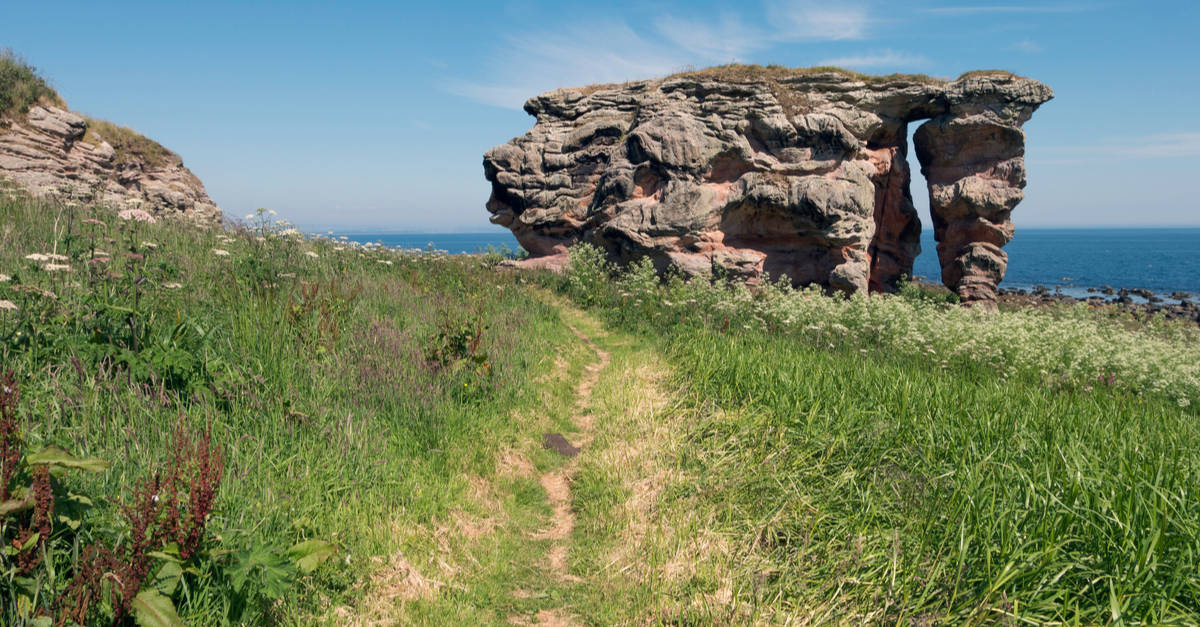 Even though there is an overall gain/loss of about 6000 feet, the Path is mainly low level.
I won't say it's easy. But, if you are new to long-distance walking, I think that this is a great choice for your first adventure. Some advanced training and a reasonable level of fitness will undoubtedly add to your enjoyment, but no previous walking experience is necessary.
The sustained distances are the biggest challenge here, so if you are a beginner, allow yourself 10 to 11 days to tackle the entire route.
The terrain underfoot varies from forest tracks and golf courses to a disused railway trackbed and rocky and sandy beaches, keeping things interesting throughout.
Since there are a few boggy sections on the trail, I recommend bringing a pair of sandals as well as stout hiking boots.
The most challenging sections on the trail are from Crail and St Andrews and between Balmerino and Newburgh.
To be able to plan your route accordingly and make things easier on yourself, I strongly encourage you to learn how to read tide times.
Tide Times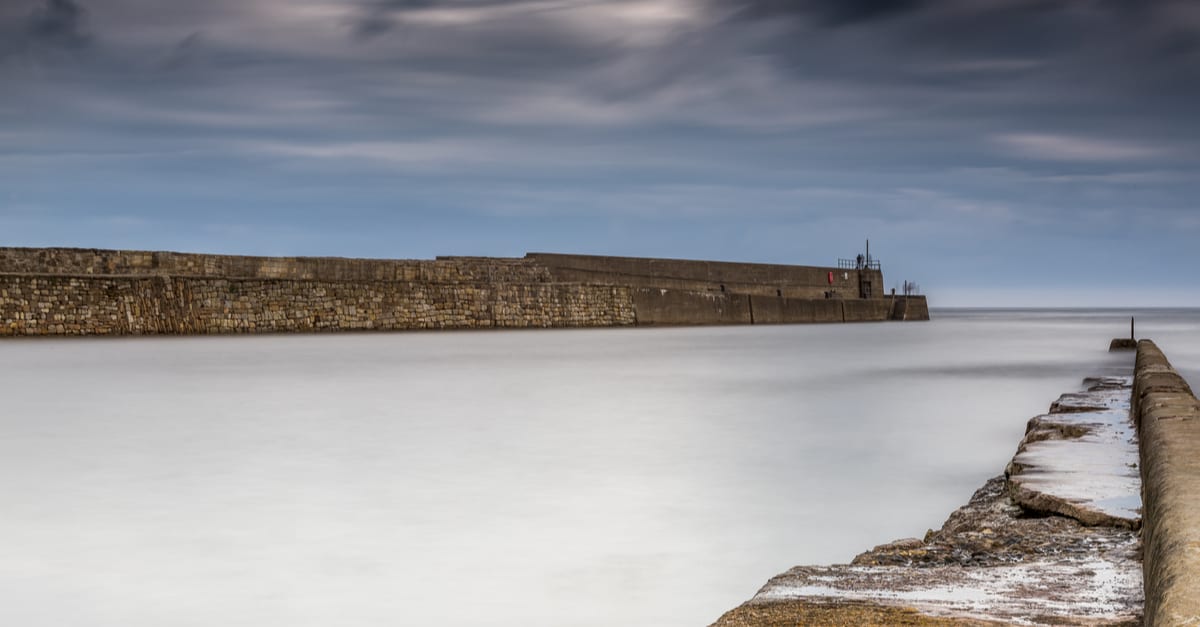 The high tide can slow you down if you don't plan out your walk in advance. Although there are a few alternative high tide routes along the trails, some sections are completely impassable at high tide.
I arrived at Kinkell during high tide. The weather was nice and I had a pair of sandals and convertible hiking pants on me, so I just wadded through calf-high water.
However, this doesn't mean that every stage of the Path is walkable at high tide. Moreover, time of year is also a huge factor. It's best to check the tide timetable before you head out.
Waymarking Along the Fife Coastal Path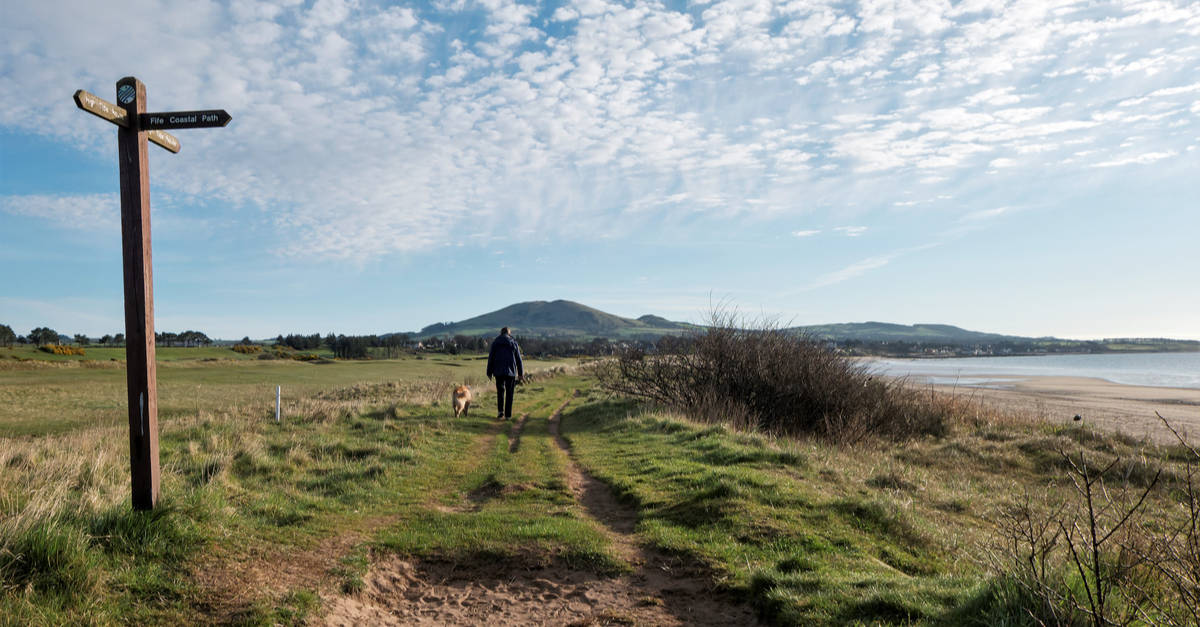 Map-and-compass skills are non-essential as the entire trail is clearly and consistently waymarked. That said, it's worth downloading a GPS track and bringing a paper map just in case.
I stumbled upon this DIY map on Google Maps recently; it's also a great option.
If you decide to make detours to some of the historic attractions along the route, these will come in handy.
Thanks to the many accommodation options along the route, as well as the trail's gentle gradients, many people choose to organise their journey on their own.
Instead of opting for a guided or self-guided tour, you can save a lot of money by buying a guidebook and doing a bit of online research before your walk. Besides, most travel companies only cover the original bridge-to-bridge route.
The Rucksack Readers guidebook for the trail was recently updated. It includes simple but reliable maps displayed at a 1:45000 scale.
Direction
I choose to walk the Path in the traditional direction—anticlockwise. Walking from the more urban settlements, through the picturesque fishing villages of the East Neuk, to the rural coastline seemed much better than walking the trail the other way around. For most of the path, I had the prevailing wind at my back.
Camping
I made plans to go camping along the Path in May. I camped almost every night; the last two nights were the exception.
When it comes to the Fife Coastal Path, camping is the ultimate self-reliant, low-cost option for overnight. However, there aren't that many designated campsites along the route. Staying at commercial campsites only would require a lot of planning, so I decided to wild camp.
Even though wild camping is legal in Scotland, the stretch between Fife Ness and Kingsbarns is almost all farmer's fields or golf courses (Fife is the home of golf after all). I had to be fairly discreet there.
There was a big rainstorm on my first day. Luckily, I had brought a three-season sleeping bag and a surprisingly robust bivvy tent with me. As you can imagine, I had a lot of camping gear on me.
If you are a minimalist camper and expect the weather to be fairly dry, a poncho tarp tent may be an even better option.
But, even though finding spots wasn't always easy, and I looked like a tortoise with all the gear on my back, I still recommend wild camping on the Fife Coastal Path.
If you plan on wild camping on the Path, check your OS map for campsites and familiarise yourself with the Scottish Outdoor Access Code.
Water Refills
If you don't mind carrying extra weight, I also recommend bringing a hydration bladder. I did mind the extra weight, so I brought my Hydro Flask with me. Because of this, and because I refused to buy bottled water, I was always on the lookout for water.
I was able to fill it up at pubs, campsites, and farms (thanks to the friendly locals), but there was one day when I had to ration water. So, ideally, you want to have three litres of water on you.
There are also a few (not many) natural, clean water sources along the route. If you plan on using them, I suggest bringing a backpacking water filter or purification tablets.
Today, I rely on the Refill App when I go hiking in Scotland, England or Wales.
Accommodation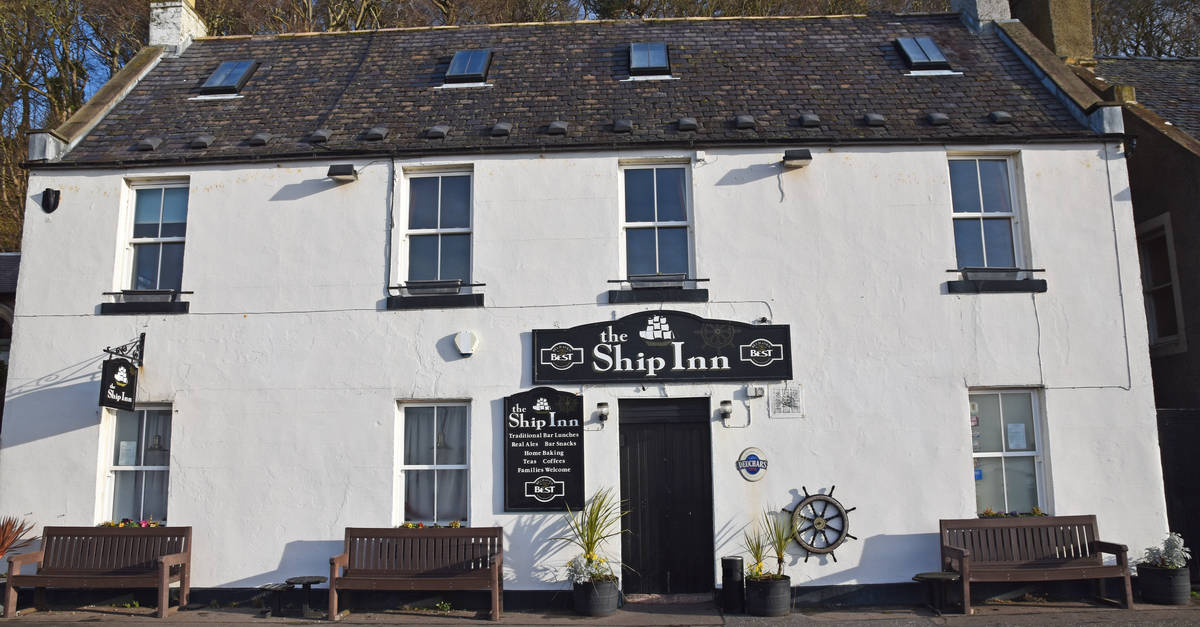 Good accommodation and services are available throughout the trail. From Kincardine to St Andrews, you are seldom very far from a shop, pub, cafe, or B&B.
However, you will have fewer options once you pass St Andrews. I considered lodging in St Andrews, but many guest houses and B&Bs in the town impose a two-night minimum stay.
Some of the smaller villages along the route have very limited accommodation options. Moreover, most places in eastern Fife are fully booked during golfing events, art festivals, public holidays, and university graduation. It's best to book accommodation well in advance.
When I walked the Path, there were almost no low-cost accommodation options near the route. Today, there are only a few hostels. Chances are, you will have to pay the price for hotels, guest houses, and B&Bs if you want to sleep in a warm bed every night.
Facilities along the Fife Coastal Path
If you want to make packed lunches or restock on supplies, there are plenty of shops along the route. Leven and Morrisons at Kirkcaldy offer the best no-frills but filling Scottish breakfast.
But if you plan on bringing a camping stove, do know that it's difficult to find gas supplies along the route.
There are many public toilets along the Path, almost in every settlement. I even stumbled upon public showers at Silversands Bay. However, some of these facilities are subject to seasonal hours.
Taxi Services and Baggage Transfer
Most holiday companies that offer guided and self-guided packages for the FCP also arrange baggage transfers. But, keep in mind, most of them don't cover the entire route.
I know of only one baggage handling company that operates along the route, Fife Coastal Path Holidays.
There are very few taxi companies in the area. It's best to reserve rides in advance. But do know that they are very expensive.
Public Transport
Kincardine on Forth is located about 45 minutes north of Edinburgh. It is accessible by taxi, bus, and bus/train.
Since I was coming from Glasgow, I hopped on a train to Larbert and then I took the X27 bus to Kincardine.
You can also catch a train from Edinburgh Waverley to North Queensferry, Inverkeithing, Rosyth or Dunfermline and then hop on a bus to Kincardine.
In Newburgh, I caught the 36 bus to Perth and then hopped on a train to Glasgow. If you want to reach Edinburgh, your best bet is to catch the 94 bus to Ladybank railway station. Alternatively, you can hop on the Newport on Tay and then catch a bus to Dundee.
I was lucky to be able to book a room at the Abbey Inn in Newburgh. If you don't plan on spending your final night in Newburgh, make sure to check the bus timetables. Very buses run after 6 PM, and timetables vary by day and season, so it's very easy to miss the last bus out of town.
If you want to get there by car, there are long-stay parking options in Edinburgh. Alternatively, you can try to negotiate a parking spot with a B&B or hotel at either end of the trail.
Public transport links between the towns and villages are excellent.  If you want to get around different sections of the trail, hop on a Stagecoach bus.
Visit the Traveline Scotland website for more information about public transport in the region.
Best Time to Walk the Fife Coastal Path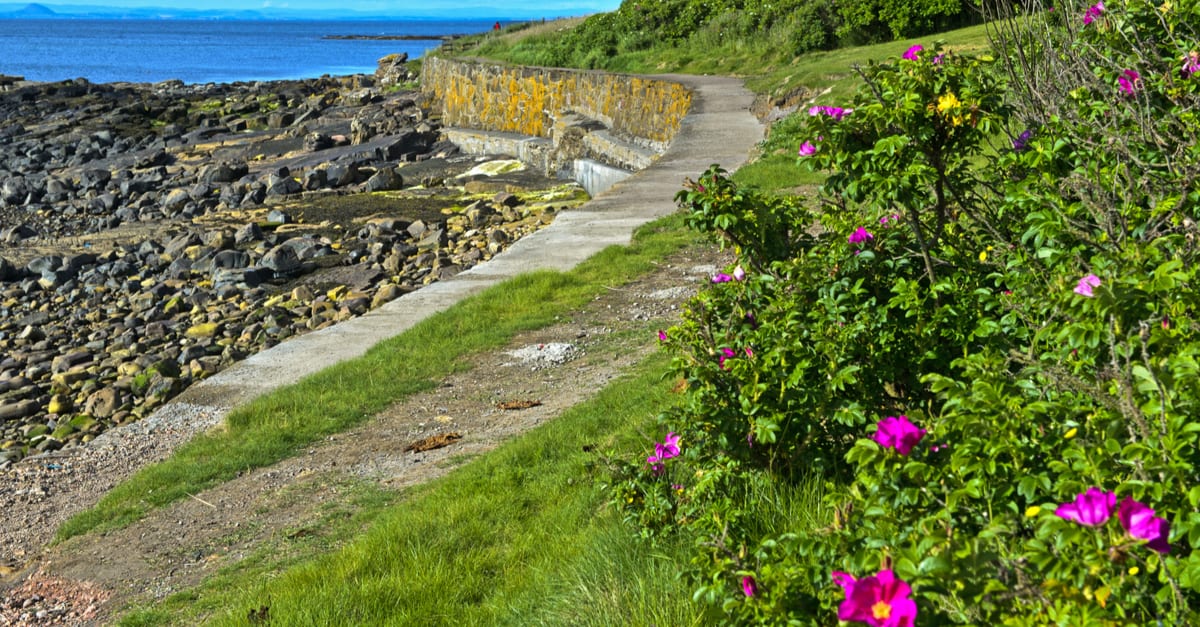 Before I walked the entire Path in one go, I completed a few stages of the trail as day hikes—during different times of the year.
I would say that it's best to avoid walking the Fife Coastal Path in winter. During this time of year, visibility is low and many support services, shops, and B&Bs and guest houses along the trail are closed.
It's best to walk the path between May and September. There is a better chance of good weather in summer, and hours of daylight are long. You'll be happy to know that Fife is the sunniest place in the country.
But keep in mind that, in Scotland, bad weather can occur at any time of year. You should be prepared to experience all four seasons in one day and pack appropriate layers.
If you would like to take on an easier trail, check out my post on the Annandale Way and the Arran Coastal Way.
Planning Your Itinerary
I stuck to the itinerary suggested by the official website and walked the trail in 8 days. But, if you prefer shorter distances, or need more time for sightseeing, you can easily split some sections.
It is important to know your own strengths and weaknesses when planning an itinerary for the FCP. Again, if you are new to long-distance walks, I recommend opting for a 10 or 11-day itinerary.
My 8-Day Itinerary
1st Stage: Kincardine – Limekilns (11 miles)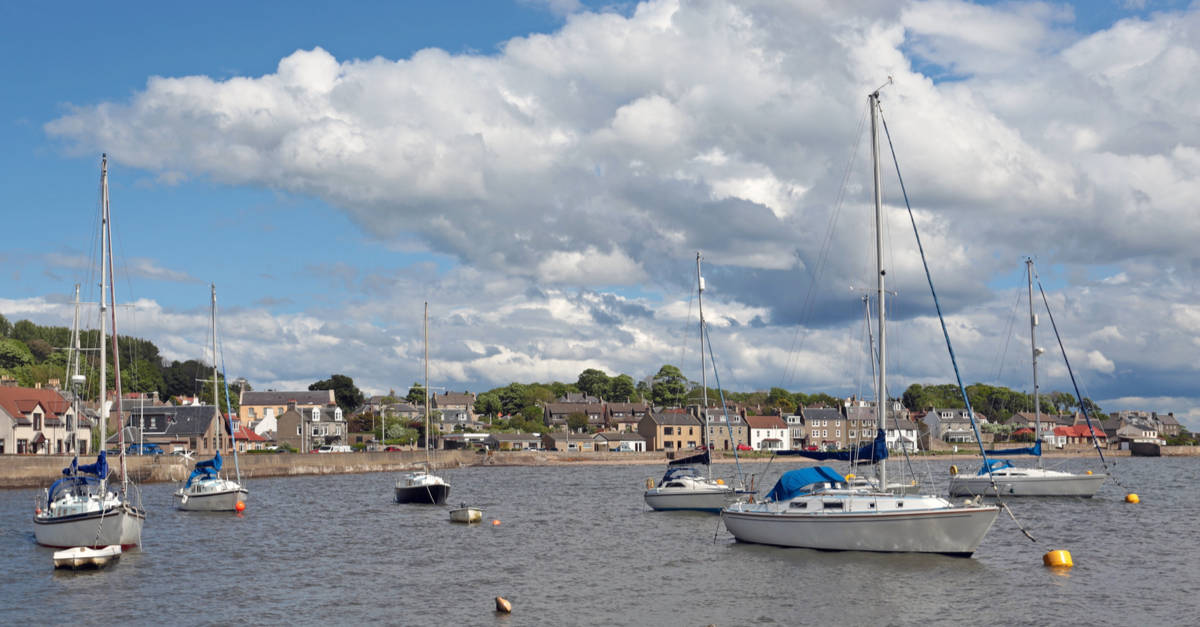 The first section of the walk offers an unusual mix of nature, cultural heritage, and industrial landscapes.
I must admit that I quite enjoyed the infrastructure along the trail, including the ever-present rail lines, the Longannet Power Station as well as the Kincardine Bridge. However, the picturesque village of Culross was the highlight of the day.
2nd Stage: Limekilns – North Queensferry – Burntisland (17 miles)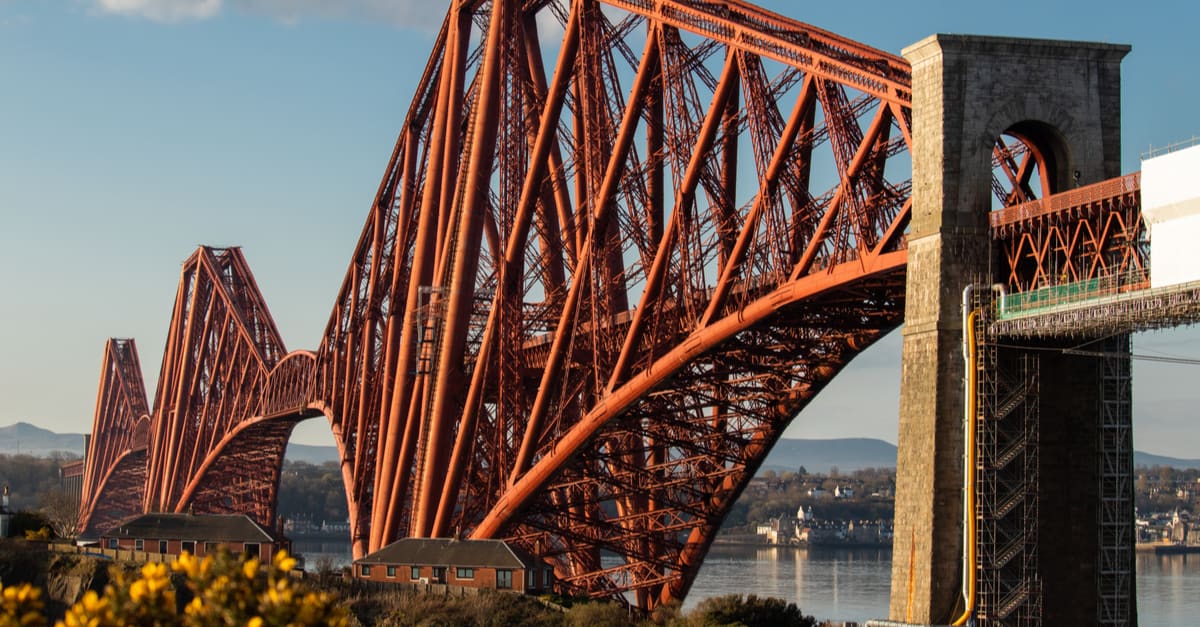 The second stage of the trail also rakes in a range of industrial and historical sites, including the Rosyth Castle and its Doocot, Forth Road Bridge, HM Naval Base, and the ruins of old Rosyth Church.
The route offers spectacular views of the Edinburgh skyline, the bridges, and the estuary. I also found the town of North Queensferry to be quite charming.
3rd Stage: Burntisland – Buckhaven (14 miles)
The third stage is characterised by pretty harbours, ancient caves, and the enchanting ruins of Ravenscraig Castle and MacDuff's Castle.
There are six caves on the coastline near Wemyss. Some of them have ancient carvings on the walls.
Many walkers choose to spend the night in Methil instead of Buckhaven. There is a good range of pubs, restaurants, and accommodation in Methil.
4th Stage: Buckhaven – Elie (13 miles)
This stretch passes through a rare nature reserve and a picturesque beach. There is also the optional Elie Chainwalk. If you'd like to experience this exhilarating scramble, do know that the chainwalk is completely submerged at high tide.
I was really impressed by the golden sands and crystal-clear waters of Leven Beach. I also remember having to cross one golf course. Watch for golfers on the tees and stick to the waymarked route.
5th Stage: Elie – Kingsbarns (16 miles)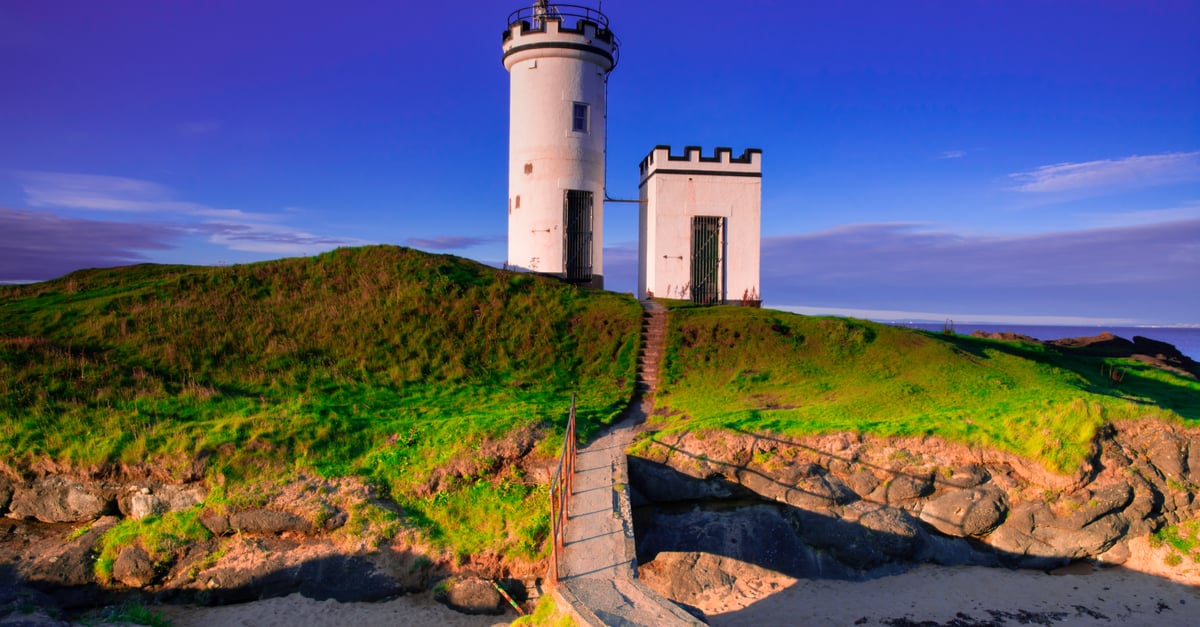 This section includes several sections of stone steps that can be slippery and uneven. But it's full of historical and geological interest, and will lead you through lovely fishing villages.
You will also pass the ruins of Lady's Tower, Elie Ness Lighthouse, and the ruins of Newark Castle.
I recommend stopping in Crail to grab a bite.
6th Stage: Kingsbarns – St Andrews – Leuchars (14 miles)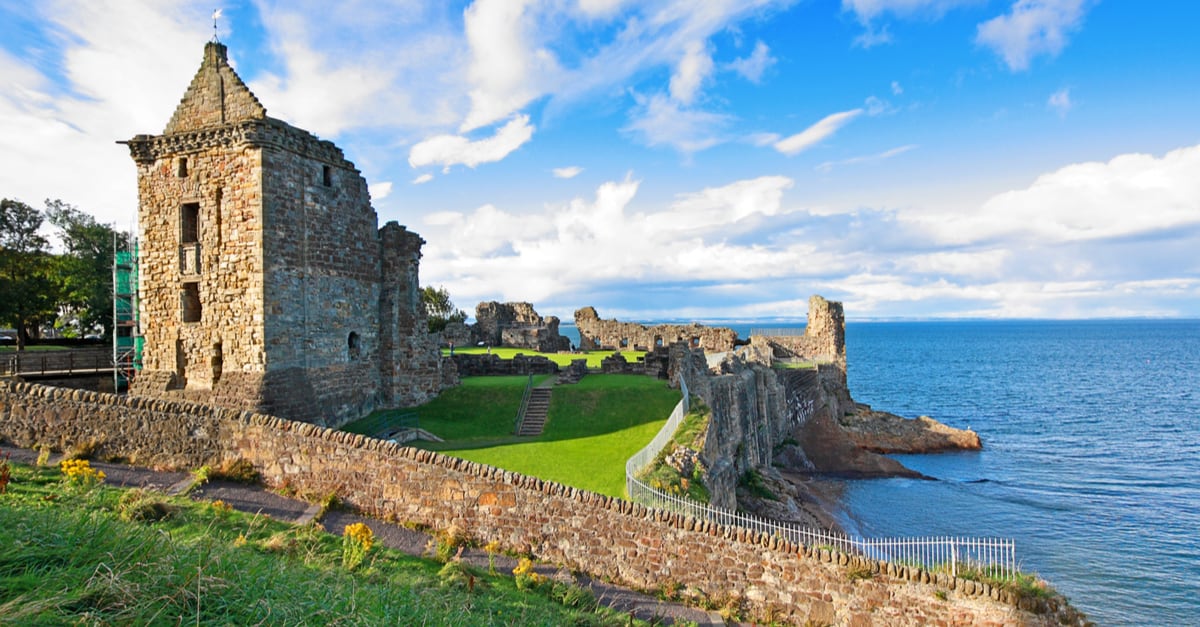 This is one of the most difficult stages, but it explores a breathtakingly beautiful stretch of the coast. All the challenges were well worth it.
The stage follows the small river called Kenly Water to Boarhills. This section may be muddy in poor weather.
There are plenty of things you can do and see in St Andrews. You can enjoy a range of beach and water activities or visit St Andrews Castle and the Cathedral.
7th Stage: Leuchars – Newport on Tay (14 miles)
On my way to the beautiful Newport on Tay, I explored the vast and magnificent expanse of Tentsmuir. I spotted quite a few seals off the golden coast. The walk through the pine forest was also lovely.
8th Stage: Newport on Tay – Newburgh (17 miles)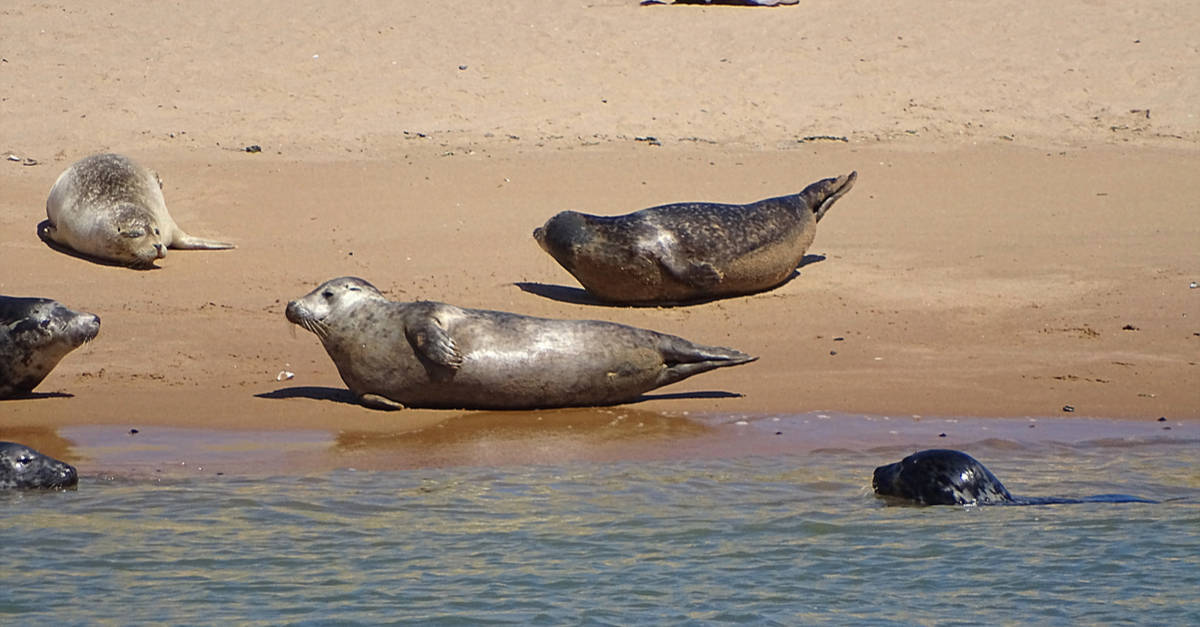 The route starts with a leisurely walk along the coast, but it quickly moves to rough terrain just above the coastline. The stage culminates in a tough climb over Norman's Law.
However, the scenery is quite lovely. I loved the pastoral fields, river views, and pine woodlands. The trail ends with a ceremonial passing under the Newburgh Arch.
If you find this itinerary to be too demanding, here is an easier alternative:
11-day Itinerary
1st Stage: Kincardine-on-Forth to North Queensferry—16 miles
2nd Stage: North Queensferry to Aberdour—8.5 miles
3rd Stage: Aberdour to Kirkcaldy—9.5 miles
4th Stage: Kirkcaldy to Leven—10.5 miles
5th Stage: Leven to Elie—10 miles
6th Stage: Elie to Anstruther—6 miles
7th Stage: Anstruther to Kingsbarns—10 miles
8th Stage: Kingsbarns to St Andrews—8 miles
9th Stage: St Andrews to Leuchars—7 miles
10th Stage: Leuchars to Newport on Tay—14 miles
11th Stage: Newport on Tay to Newburgh—17 miles
Highlights of the Fife Coastal Path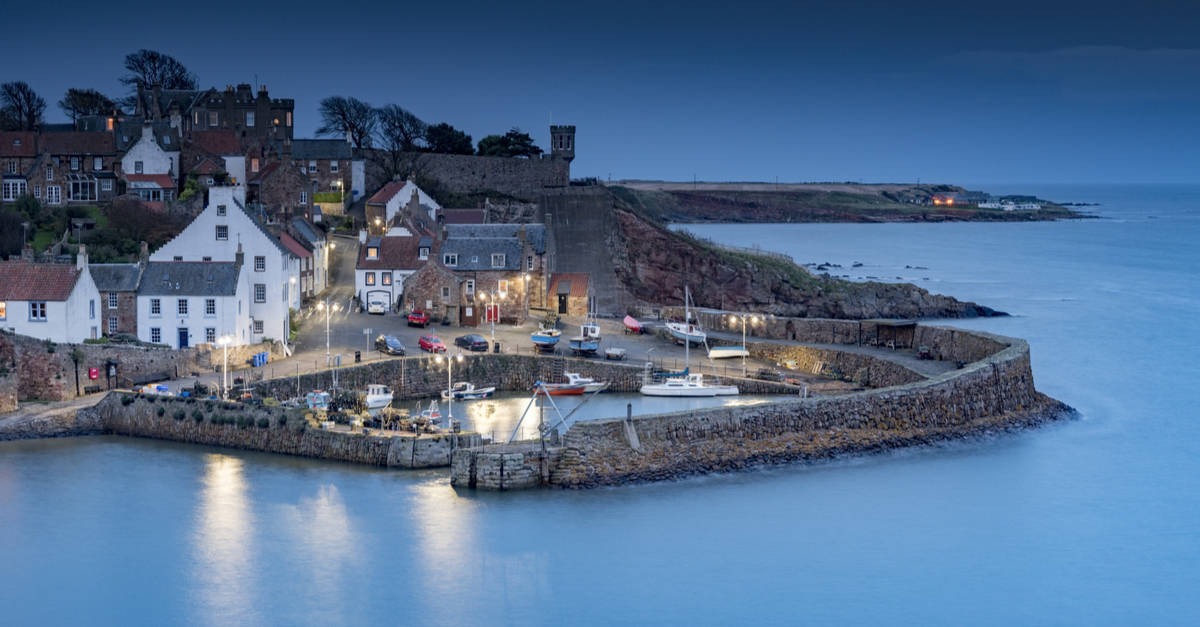 Some of the highlights of the trail include:
Harbours of East Neuk
Rich history of Fife
Tatha Gallery (Tatha is the Gaelic name of the River Tay)
Sandy beaches on the coast path
Scotland's Forth Bridges
Historic mining towns and fishing villages (such as St Monans and Crail)
The volcanic Rock and Spindle sea
Basking seals and dolphins