Dublin has been my adopted home for many years, Dublin and Ireland have been kind to me. When I first came here I would hear natives complaining about how rough the city centre could be on a Friday and Saturday night. However, I am originally from Glasgow and Dublin has nearly always felt safe to me. There was a time a few years ago when many groups (most stag and hen parties) flew in for the weekend and romped around Temple Bar causing some disturbance. Though they were very easy to spot and avoid. Temple Bar and many other areas have over the last few years discouraged these parties, (not letting them into pubs), and so they have now moved on to other hunting grounds, for example Prague. I give the same advice for all cities in the world – if you are in an area and you don't feel safe, get out of it, trust your instincts! However I love living in Ireland.
So if you have one or two days at the beginning or end of your walking vacation or holiday this is my personal choice of visitor attractions in Dublin. As is usual for my life much of it involves walking – see top 5 things to do in Dublin.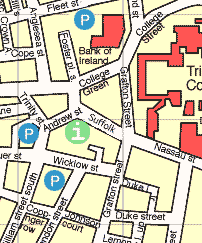 Firstly, get or print out a map of the city center. Dublin city center is fairly small compared to other European cities. Google earth or google maps are useful and probably enough. However here is the tourist information office in the centre of the city, (The big green i). They will provide all that you could expect of them and they are in my experience very helpful. Their office is about two hundred meters from Grafton Street (close to Trinity College Dublin), on St Andrews Street.
Grafton street is the main shopping area in Dublin city center. If you need any last minute items for walking, try a store called Great Outdoors. The area is ringed by various tourist shops, if you need that. Nassau Street is a good place to pick up gifts of an Irish origin to take home, from woolens, to pottery, really anything that is made in Ireland.
There are only two good ways to see Dublin. By foot, my first choice, or by the hop on hop off buses. The buses are reasonable value, the ticket lasts for the whole day and covers all the main attractions in the city. In good weather it is great to sit up top in the open top bus, great photo opportunities. The buses all leave from outside Trinity College, there is no need to book ahead, just turn up and part with your €14. The ticket includes some discounts in to attractions.
Four places the bus passes that I highly recommend. Christ Church, it is only a short walk of ten minutes from Trinity College, follow Dame Street to the end and it is on your right, impossible to miss. Another fifteen minutes by foot will bring you to the Guinness Hop Store, yes the place where Guinness is brewed. My next stop would be a fair walk by foot, 30-40 minutes, this is Phoenix Park. Phoenix Park is home, amongst others to: the American Ambassadors Residence, the Irish Presidents residence, Dublin Zoo, and herds of wild deer. The park is crossed with many walking paths, one record that the parks hold is the largest walled park in the world.
My last stop if I was on the bus would be the Jamesons distillery. Yes, more alcohol, stuff that is very popular in Ireland, much more so than the rest of Europe. The bus will drop you back at Trinity College, a quiet haven in a noisy city. Entrance to the college grounds is free. There is a cafe in Trinity, not for a quiet coffee, but get a take away and walk round the back of the college, where you will come across the cricket grounds. A haven of peace and quiet in a city that I sometimes think has gone mad it is so busy.
If you are staying more than one day in Dublin I recommend the Lonely Planet "Dublin" guide. All you will ever need to know for a great holiday in Dublin. Included in their guide are several walks around the city with accompanying maps, worth the price for that alone.